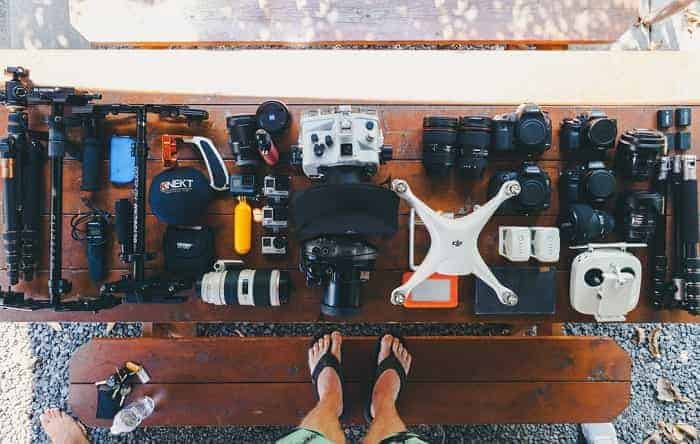 You're planning to travel abroad with your drone and a few spare batteries, but you're finding it really difficult to get a direct answer. I don't blame you, there are so many contradicting articles online, so I decided to make this as easy as possible.
So can you put your drone in your checked luggage? In most cases, you are allowed to pack your drone in your checked luggage. FAA allows you to pack a drone with an installed 100 Wh or less lithium battery in your checked luggage. Fortunately for us, this includes MOST drones. But, if your drone's battery is more than 100 Wh then this gets more complicated.
How? well, the more energy your drone's battery has, the stricter airlines need to be. I mean it makes sense right? The last thing anyone wants is for a lithium battery that has a ton of energy to a short circuit on an airplane.
The rest of the article will cover exactly what you need to know when traveling with your specific drone and it's spare batteries.
Here's the best way to use this guide…
I've broken up drones into three different categories, each category has different laws. So start out by finding which category your drone belongs to, then read what you need to know before planning your holiday.
01. Drones With Batteries Less Than 100 Wh
Our first category is the most unregulated, and you'll probably find that most drones fall in this category. However, there are still some rules you need to be aware of, so keep reading.
Table showing all drone batteries that are less than 100 Wh:
| | |
| --- | --- |
| Drone Type: | Lithium Battery Wh: |
| Syma X20 Mini Drone | 0.66 Wh |
| DJI Ryze Tello battery | 4.18 Wh |
| Propel Star Wars X-Wing battery | 6.2 Wh |
| DJI Spark battery | 16.87 Wh |
| DJI Mavic Mini batter | 17.28 Wh |
| Parrot Anafi battery | 20.52 Wh |
| DJI Mavic Air battery | 27.43 Wh |
| Parrot Bebop 2 | 35.52 Wh |
| DJI Mavic Pro battery | 43.6 Wh |
| Autel Robotics EVO battery | 49.02 Wh |
| DJI Mavic + Zoom 2 battery | 59.29 Wh |
| DJI Phantom 3 battery | 68 Wh |
| Yuneec Typhoon H battery | 79.9 Wh |
| DJI Phantom 4 battery  | 81.3 Wh |
| DJI Inspire 2 battery | 97.58 Wh |
Drone Battery Packing Rules to Follow:
You can only travel with 3 batteries in total. Two spares in your carry-on luggage, and one in your checked-in bag ONLY if it's installed inside a drone. Or you can have all 3 inside your carry on.
You're only allowed to travel with 2 spare batteries. The third battery always needs to be installed in your drone. Even if you have it in your carry on.
You can never have spare batteries inside your checked bags.
You're allowed to pack your drone and only one battery that is installed in your drone inside your checked baggage.
You need to have the spare batteries in a travel case to stop them from getting damaged. You can also use the original packaging, or cover the heads with tape when packing them to stop them from short-circuiting.
You don't need any special permission from the airlines. Just pack and go!
02. Drones With Batteries Between 100 Wh and 160 Wh
Very few drones will fall in this category, however, if you just happen to own one of these drones, here are some important points you need to be aware of.
Table showing all drone batteries that are more than 100 Wh:
| | |
| --- | --- |
| Drone Type: | Lithium Battery Wh: |
| DJI Inspire 1 battery | 129.96 Wh |
Drone Battery Packing Rules to Follow:
You NEED special permission from the airline.
You won't be allowed to pack it in your checked-in luggage. Only allowed in your carry-on hand luggage.
You can only travel with a total of 2 drone batteries instead of 3.
If you land in this category, you're probably wondering by now how you can get special permission. Since so many airlines have different rules and policies, the quickest way you could do this is by phoning their customer service team and explaining what you need.
03. Drones With Batteries That Exceed 160Wh
If your drones batter exceeds 160Wh you won't be able to fly with it. Period. I've done some thorough research online, and unless your drone is strong enough to lift a human being, your drone probably won't land in this category.
Maximum Number Of Batteries That Can Be Packed in Your Carry-on and Checked Luggage
I found this part pretty confusing at first because the answer depends on how much Wh or energy the battery has. To simplify it I decided to spread the data into an easy to read table. Hope this helps!
Table showing how many drone batteries you're allowed to travel with:
| | | | | |
| --- | --- | --- | --- | --- |
| | Maximum Batteries Allowed in Carry-On : | Maximum Batteries Allowed in Checked Luggage: | Total Batteries Allowed During Flight: | Notes: |
| Battery Below 100 Wh: | 3 | 1 | 3 | Two spares and one battery in the drone. Spares not allowed to be in checked-luggage. |
| Battery 100 Wh to 160 Wh: | 2 | 0 | 2 | Need airline permission. No batteries allowed in checked luggage. |
| Battery 160 Wh +: | 0 | 0 | 0 | No batteries allowed under any circumstances. |
Just to be clear, the only time a battery can be inside your checked luggage is if it's installed into your drone. This is usually where people get confused.
INSIDER TIP: So if you're flying with three batteries below 100 Wh, the best practice would be to check in your drone with a pre-installed battery, and pack the other two spare batteries in your carry on.
How To Properly Prepare Your Drones Spare Batteries For Travel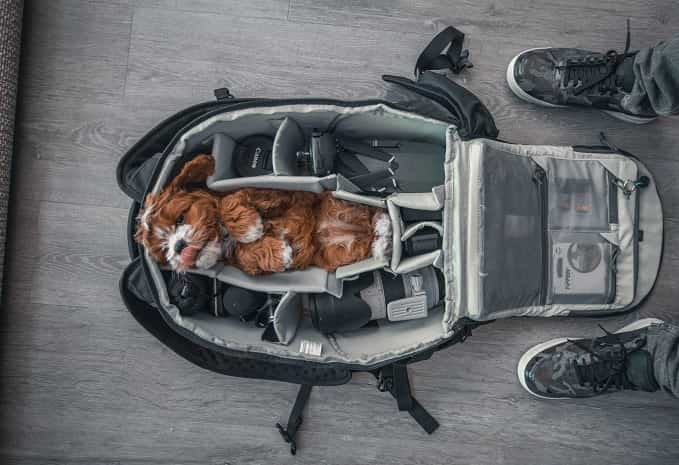 According to the FAA, it is required that you protect any batteries that you travel with, with some kind of case, so that they don't get a puncture and short circuit. You're not allowed to just stick your batteries between your clothes loosely without a case.
Some of the best ways to pack your drone batteries:
Keep them in the original packaging.
Take up the gold plates to make sure they don't short circuit.
Get one of these handy drone battery travel cases on amazon.
If you have a camera bag, place them in a battery sleeve.
The last resort put them separately in a ziplock back and wrap them with some kind of material.
Can You Travel With Batteries in Your Drones Remote?
You shouldn't have any trouble with the batteries in your remote since they will all be less than 100Wh. Just make sure they are pre-installed in the remote. As always, don't have them loosely flopping around your baggage. This would also tell a TSA that you're not being cautious, which would probably result in the digging even deeper.
How to Check Your Drones Battery Wh?
There are three ways you can check this fairly quickly without resorting to mathematics.
MOST of the time, you should be able to find the Wh on the product page of the website you ordered from.
If not, you can try google the drones name followed by "battery Wh." For example, if you had the DJI Inspire 1, you would google "DJI Inspire 1 battery Wh." The top results should show you the information you're looking for.
If that fails, try calling customer support. They'll definitely be able to tell you the Wh of your drones batter.
If those three methods fail you, then your drone probably doesn't exist!
Tips For Travelling With Drones – Ignore These And You'll Regret It
You can plan all you want, but sometimes the best advice comes through traveling experience. I'll be honest, I haven't traveled much with my drone. But I do travel a lot in general, and I've spent hours reading through forums about people who have.
So here are the best tips I've found through my own experience and the experience of others.
Here they are:
Print out TSA's regulation sheet that covers the laws about drones and take it with you. There are a lot of TSA agents that don't know their own rules.
Don't gift wrap! This is a big one. Nine times out of ten you will be asked to show your drone to a TSA agent. And If you have it in checked bags, someone will more than likely inspect it.
If you're taking the drone as a gift, don't tell customs. They will tax you on it.
Make sure you don't travel through a country that doesn't allow drones on their soil. They will confiscate it from you, even if you are just passing through. For example Belize.
Always have your drone ready to be removed from your carry on. Keep this in mind when you're packing it. You don't want to be scrambling around unpacking tour entire bag just to get to your drone.