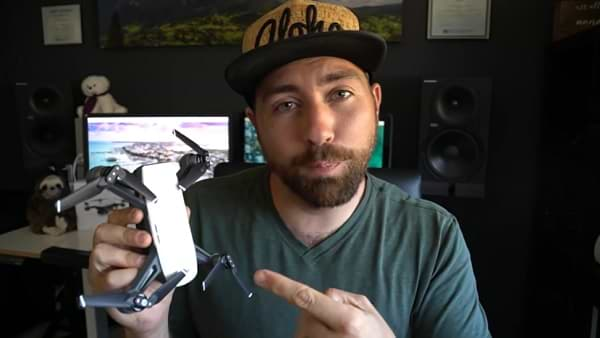 Obstacle avoidance for drones is constantly improving, but drones with obstacle avoidance tend to be slightly expensive!
So, I did some research to find a few cheap drones with obstacle avoidance, and here is what I found.
| | | | | | | |
| --- | --- | --- | --- | --- | --- | --- |
| | Drone Name: | Obstacle Avoidance: | Flight Time: | Range: | Price: | Purchase Link: |
| 01. | Ryze Tello | YES | 13 min | 330 ft | $99 | VIEW |
| 02. | HOLY STONE HS100 | YES | 18 min | 492 ft | $149 | VIEW |
| 03. | EACHINE E511 | YES | 17 min | 656 ft | $99 | VIEW |
| 04. | SYMA X8 PRO | YES | 12 min | 229 ft | $189 | VIEW |
| 05. | DJI SPARK | YES | 16 min | 262 ft | $350 | VIEW |
| 06. | HUBSAN X4 H502S | YES | 13 min | 820 ft | $193 | VIEW |
| 07. | YUNEEC BREEZE | YES | 12 min | 328 ft | $499 | VIEW |
| 08. | Tenergy TDR Phoenix Mini | YES | 8 min | 130 ft | $33 | VIEW |
| 09. | Wingsland S6 | YES | 10 min | 328 ft | $250 | VIEW |
| 10. | Eachine E58 | YES | 9 min | 328 ft | $75 | VIEW |
| 11. | Tactic AIR Drone | YES | 20 min | 492 ft | $85 | VIEW |
| 12. | Potensic A20 | YES | 13 min | 98 ft | $30 | VIEW |
Table showing the top 10 cheap drones with obstacle avoidance.
Keep reading for a full breakdown on each of these drones and what features set them apart from the rest!
01. Ryze Tello
The Ryze Tello drone is always a controversial drone to put on any list, mainly because it is closely related to the DJI Family! It is made with DJI parts, uses DJI tech, and is also sold on the DJI website.
But, it is not a DJI drone which confuses a lot of people, however, it has certainly made a name for itself and is definitely an amazing piece of tech!
Camera: The Ryze Tello has a 720p camera, allowing the pilot to capture some excellent footage for a drone of its price range.
Flight Time: It gives you a decent period of time in the sky with a 13-minute flight time, which doesn't seem like much, but not many drones in this price range can do much better!
Price: The price of this drone is $99, which is insanely cheap for a drone that is competing with the Mavic Mini! But how did they get the price so low?
They were able to cut costs on the drone by:
Removing the GPS.
You have to charge the battery inside the drone via USB instead of a removable battery.
It doesn't have a controller, so you fly using your phone.
The drone does have obstacle avoidance despite not having GPS, which means it is great for beginners.
Even though it is on the cheaper side, it is still a drone made with valuable parts and brilliant tech. Worth a buy!
02. HOLY STONE HS100
If you are looking for a great drone for a beginner pilot then the Holy Stone HS100 is one of the best beginner-friendly drones on the market. It has one main take-off and landing flight feature, as well as a return home feature that will come in handy for new flyers.
All of these features combine to make a very simplistic drone!
Camera Quality: The HS100 camera is attached to the bottom of the drone. The camera is a 2K HD camera, which is good to have on a drone of its price.
The drone also has a 1-axis gimbal to help with stabilizing camera footage.
Flight Time: The drone will give you 18 minutes of solid flight time.
Price: The Holy Stone HS100 will cost you around $149.
03. EACHINE E511
This drone is a great drone to start off with if you are new to flying drones. It is cheap, but still has some amazing features!
Camera: The E511 has a 720p camera, and 6-Axis Gyroscope, which stables the footage making for some excellent photography and videography potential.
This stabilization comes in handy if the pilot will be playing around with the 3D flip feature.
Design: The drone is designed to maximize portability. Both the drone and controller can be folded down nicely for secure storage in a suitcase or backpack, and ready at any moment.
The drone possesses obstacle avoidance making it easier to follow and allowing for pilots to focus more on photography and less on obstacles that might pop out of nowhere.
Price: At only $99 this is one of the best drones you will find at this price range.
The drone also has a few cool features that drones in its price range don't usually possess.
The E511 has a 360° roll which gives the footage a wonderful effect but is also really fun to play around with.
The drone also allows you to control it using an app if you don't want to use the controller.
The drone also allows you to switch to FPV(First-person view) goggles to enjoy your flight from another unique perspective.
04. SYMA X8 PRO
The Syma X8 Pro is a brilliant stable drone for beginner pilots, thanks to the built-in GPS. It can hold its position and remain stable in the air even if the wind picks up.
Camera: The Syma X8 has a 720p HD camera that can adjust its angle and capable of capturing quality footage and stills. The feed is also streamed straight to the smartphone you are using.
Special Features: The Syma X8 has a few special fetures that put it apart from other drones.
Orbiting – This feature allows the Syma to fly around the person piloting the drone or holding the controller.
Follow Me – This is a feature you don't usually find in cheaper drones, it allows the drone to track a subject and keep them in the shot at all times, even if they are moving.
Flight Plan – It allows the pilot to tap on a point in the Syma Fly app, and the drone will fly to that location automatically.
Price: You can find the drone on Amazon for around $189.
Range: You can fly the drone for around 70 meters before needing to return for a charge.
05. DJI SPARK
The DJI Spark is just a little bigger than your average smartphone and is able to even fit in your pocket, which makes it the perfect drone to take on your travels!
The Spark is small and easy to fly, and this makes it perfect for beginner pilots. The Spark is also one of the cheaper DJI drones.
You can use a smartphone to control the drone, and even by just using the controller you can still fly this drone further than most of the drones in its class that require controllers.
The DJI Spark was designed to be a fun beginner-friendly drone, but at the same time still having the features and qualities that every DJI drone is known for.
Flight time: Even though the Spark is a small drone, the drone has quite a lot of power, which powers it for up to 15 minutes while you fly.
Camera: The Spark has a 12 MP camera capable of recording 1080p 30fps video.
The drone also has a mechanical 2-axis gimbal, which assists in stabilizing all your video footage.
Price. The Spark will cost you around $350, so if you are looking for a cheap, but high-quality drone with obstacle avoidance, then this is the drone for you.
Special Feature: The intelligent flight control makes the Spark perfect for beginner drone pilots, almost being like a co-pilot avoiding obstacles for the pilot.
06. HUBSAN X4 H502S
There's one thing enthusiasts love and that is a drone that is under the FAA's 0.55 lbs registration mark. The Hubsan X4 H502S is an amazing little drone with that added bonus.
This is one reason why it is a drone perfect for beginner pilots!
Another reason why it will be the perfect drone for you if you are a beginner is the excellent obstacle avoidance that will assist the pilot.
As you would expect from a drone with obstacle avoidance, it has full GPS, which enables both the obstacle avoidance and allows the drone to have steady flight while filming.
Being equipped with GPS also allows this drone to have features such as follow me, which enables the drone to follow and track the pilot autonomously.
Camera: The Hubsan H502S has a 720p camera, which is great for video recording.
Flight Time: The H502S has a 12 minute flight time, which is a decent time considering the price of the drone.
Range: You are able to fly this drone about 66 feet away from the controller.
Price: This is a very good drone with some quality specs that only costs $33.
07. YUNEEC BREEZE
The Yuneec Breeze is quite an old drone, but despite that fact, it still offers exceptional value for money.
It has many different features and flight modes. This includes modes such as autonomous Orbit, Selfie, and Follow Me modes.
The drone is even programmable through the application to allow the pilot to draw a set route and the drone will follow it using its integrated GPS system.
If you want a good quality drone that's easy to fly and cheap, you can't go wrong with the Yuneec Breeze!
Price: The drone isn't the cheapest, but $500 is a good price if you are looking for good quality, safe-to-fly drones.
Camera: The Breeze has a 4K Ultra High Definition camera.
08. Tenergy TDR Phoenix Mini
The Tenergy TDR Phoenix Mini is one of the cheapest obstacle avoidance drones on the market. This drone offers advanced features you would normally find with expensive drones, but at a dirt-cheap price point!
The drone also looks cheap, which is what you would expect, however, the features certainly cover that up!
The part of the drone that is responsible for obstacle avoidance is located at the bottom of the drone and only activates when the drone is 2-3 feet away from objects that could cause a collision.
The drone stops approaching the object and halts automatically. This feature works best when the drone is moving slowly.
Camera: The Phoenix mini has a 720p HD camera.
The drone camera is also stabilized by a 6 axis gyro stabilization.
Price: This drone will cost you around $40. You will struggle to find a better drone for this price on the market!
09. Wingsland S6
The Wingsland S6 is fitted with infrared detectors and can calculate and avoid external obstacles from the left, right, front, back, and upside. This allows a beginner pilot to go on a carefree flight without needing to worry about crashing into obstacles.
Camera Quality: The Wingsland is equipped with a 4K HD camera which is extremely impressive for its price.
Gimbal: The 4K camera footage remains completely stable because it is assisted by a 3-axis gimbal keeping all that footage smooth.
The competition between the Wingsland S6 and the DJI Spark are both in the same category of drone
Price: The S6 is one of the only foldable drones that is somewhat on par with the DJI Spark, and will only cost you $250.
Flight Time: The drone will only give you 8-10 minutes of flight, which is not great considering its other specs. However, if the flight time were better, the price would be higher as well.
10. Eachine E58
Eachine is a Chinese toy company responsible for making many high-quality drones that are loved by many enthusiasts who are new to the drone scene.
The drone is cheap but can provide pilots with stunning footage.
The drone is pretty fast and can also turn very quickly, and this is also thanks to the drone's obstacle avoidance, which helps it maneuver around potential obstacles that could cause harm to the drone.
Camera: The E58 has an HD camera and using the camera, gesture control is possible by allowing the pilot to simply draw the flight path you want the drone to take on your smartphone.
The drone has a 3D VR mode paired with the VR kit allowing the pilot to control the drone easier.
Price: The E58 will only cost you $80, which is an absolute steal for this drone's quality.
11. Tactic AIR Drone
This drone comes at just a fraction of what other drones of the same class are being sold for. The drone is foldable, which makes it perfect for travel, and makes travel with the drone just so easy.
Camera: It possesses a 4K UHD camera with a wide lens that shoots in 4K resolution in 30 fps. It also has a Dual Wide-Angle camera, which means you can record from both cameras simultaneously.
Obstacle Avoidance: The AIR drone has an Anti-Collision System thanks to the built-in sensors. This helps the drone prevent collisions with the ground & other obstacles. These sensors are also the reason why the drone has hand gesture controls. 
Flight Time: The battery on this drone lasts more than 15 min, allowing it to fly continuously without needing to be charged.
Price: All this for only $85, absolutely amazing!
12. Potensic A20
The Potensic A20 is a brilliant drone for beginner pilots or young teens. Because it is a beginner drone it has very basic specs and basically does what is written on the box.
It has prop guards in order to protect the drone's props if you happen to crash it, however, it is not easy to crash the drone as it has a decent obstacle avoidance system.
It's very easy to fly, and the altitude hold function helps keep the drone stable, whether you are inside or outside.
Camera: The drone is only equipped with a 2.4G camera with a 6 Axis Headless Mode.
Price: At the low cost of $30 it is a complete bargain and you shouldn't think twice about it.
Flight Time: The drone can fly for a continuous 13 minutes, but also comes with 2 extra batteries to ensure that the pilot is ready when needed.