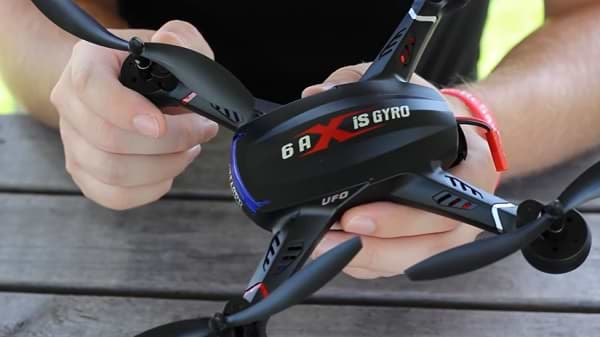 Drones technology is improving day by day, but sadly the prices are also increasing. Extra features that make a drone fun to use, such as GPS and a camera, will inevitably increase the price tag.
The quality of the camera, as well as the sophistication of the GPS, will impact the overall price of the drone. The good news is that you can still get drones out there with a good-quality features that won't break the bank!
With that being said, here is a list of my top picks of drones with GPS and camera that cost less than $200:
Drone Name:
Flight Time:
GPS:
Camera Quality:
Price:
Purchase Link:
1.
Hubsan H501S
12 min
YES
720p
$33
VIEW
2.
Holy Stone F181C
RC
8 min
YES
720p
$49
VIEW
3.
Ryze Tello
13 min
YES
720p
$99
VIEW
4.
Holy Stone 110D
13 min
YES
1080p
$130
VIEW
5.
Holy Stone HS165
28 min
YES
1080p
$132
VIEW
5.
Potensic T25
10 min
YES
1080p
$139
VIEW
6.
Eachine E511
17 min
YES
720p
$139
VIEW
8.
Hubsan X4 H501 A Plus
22 min
YES
1080p
$142
VIEW
9.
Holy Stone HS100
18 min
YES
2K
$149
VIEW
10.
Syma X8 Pro
12 min
YES
720p
$189
VIEW
Table showing the best cheap drone with GPS and camera.
Keep reading to find out more about each one of the drones on this list and what makes them stand out from the rest!
1. Hubsan H501S
If you are new to the droning community and are looking for a good camera drone with GPS, then the Hubsan H501S is a good choice.
The big upside of buying this drone is that it weighs less than 0.55 lbs, which means that it does not need to be registered with the FAA. As a new pilot, being able to skip this step lets you go out and fly your drone as soon as possible!
GPS: Thanks to being equipped with GPS, the H501S is cable of many things. One of those things is multidirectional obstacle avoidance. This feature will help with flying the drone, especially if you are a new pilot and you are more likely to crash a drone.
If you are a selfie fan, the Hubsan is equipped with a follow-me feature that will allow you to take selfies and videos while the drone follows you without the need for you to control it.
The GPS also keeps the drone stable in the air while flying.
Camera: The H501S is equipped with a 720p camera, This is not the best camera you get on a drone but for this price, it's pretty good.
Flight Time: You will be able to spend a total of 12 minutes in the air flying the H501S.
Range: With 12 minutes of flight time and a range of 66 feet, you will have plenty of space to enjoy flying this Hubsan drone.
Price: This is a very good drone, and it is one of the top toy drones on the market at a cost of only $33.
2. Holy Stone F181C RC
Holy Stone has come up with one of the best small and versatile quadcopters in the game. The F181C is perfect for beginner drone pilots who are just getting into the drone game.
It has features that you would usually find in drones of higher quality.
Camera: The F181C is able to capture 2MP stills, and the brilliant 720p video footage is something that will definitely keep you in the air.
It also has a 6-axis gyroscope stabilization system that stabilizes the drone's camera. This ensures that the footage captured by the drone is steady and clear.
Flight Time: The F181C will give you 8 minutes of solid flight time.
Range: The drone is able to travel a total of 328 feet away from the controller. Considering its price, the range and flight time are very good.
Price: The drone falls way under our $200 price mark. At only $49, you are indeed getting all your money's worth from this drone!
3. Ryze Tello
What would you say if I told you you could have a drone made with DJI parts, used DJI technology, and was sold on the DJI website but at a fraction of the price?
I don't think you would believe me, but lucky for you Ryze has come up with a drone for you!
The Ryze Tello drone is made with DJI spare parts, uses DJI tech, and you can purchase it on the DJI website.
Camera: The Tello has a 720p camera, which will allow even a novice drone pilot to capture some excellent footage.
Flight Time: Unlike its DJI counterparts, the Ryze Tello can only be in the air for 13-minutes before needing to come back for a recharge.
This is still very good for a drone of this price.
Price: The Tello will cost you around $99, and if you consider the fact that you are basically getting a drone that is DJI quality for a fraction of the price, its an absolute steal.
Other features: The drone has very good obstacle avoidance and a basic follow me feature.
Even though the drone costs less than $100, Ryze was still able to create a drone that is genuinely amazing. It can be enjoyed by everyone, from beginner pilots to more experienced pilots.
4. Holy Stone 110D
Holy Stone are true masters when it comes to creating toy drones that are good enough to challenge the heavyweights in the droning industry. They can do all that and still keep the total price of the drone down. The HS110D is one of the best drones Holy Stone has made.
With the added GPS navigation, you are able to utilize more features that you wouldn't usually find in a drone of this price.
Features like the new and improved follow-me will allow you to use the drone without having to control it at all.
Weight: The drone weighs less than 0.55 lbs, which means you don't have to register the drone with the FAA, and it saves you the hassle.
Flight time: The 110D will let you stay in the air for a total flight time of 13 minutes before you need to charge. Now if you are used to using drones like a Mavic, this won't seem like much but it is very good for a drone of this price range.
Range: This drone will only lose signal if you fly further than 950 feet away from the controller.
Camera quality: The 1080p HD video quality camera is certainly amazing for such a cheap drone.
It has a 110-degree field of vision, which will add lots of new perspectives for you to film in. If you are looking to improve your videography skills, this is definitely the drone for you!
Features: This drone has some pretty cool features that you can play around with that make it really fun to fly.
GPS allows for the drone to have a return to home feature.
With one click of the button, the drone will do a cool little flip. This opens up possibilities for cool shots with the HD camera.
Price: It will cost you around $130 to purchase this drone.
5. Holy Stone HS165
Premium drones, like the ones made by DJI, are expensive because they have better parts and tech that allow them to perform the way they do. Budget drones, on the other hand, have to compromise a few things in order to keep the price of the drone down.
That being said, when looking for a good budget drone, it is always advised to turn to Holy Stone for what you are going to need. Holy Stone is always able to dish out a great drone for a fraction of the price of a premium drone.
The HS165 is just proof of that. It even has a lot of GPS features that are usually found in the top-tier drones.
Price: It keeps its price under the $200 mark that we are looking for, only being $135.
Camera: The 1080p camera will certainly keep you entertained. This is also not a feature you usually find in drones this cheap.
Range: It also has an impressive range of 800 feet.
GPS: Being equipped with GPS allows it to have an auto-return feature. By pinging the take-off location, the drone will be able to return home at a click of a button.
Using the GPS, you can also set a planned route for the drone to follow. This is great for the drone to catch some amazing action shots.
6. Potensic T25
This drone by Potensic is one of the best drones for beginners that you will find on the market.
The T25 has many advanced features including two intelligent flight modes that will make it easier for pilots who are still starting out to be able to fly and take great videos with ease.
It also has an FPV mode that will allow the pilot to stream the feed live straight to the smartphone you are using to fly the drone. The videos and pictures taken with the drone can also be shared on various social media platforms.
Design: The T25 was designed to resemble the Phantom 4 from DJI. Since Phantom 4 is the most popular drone produced by DJI, but sadly it is not the cheapest drone to buy.
By creating the T25, Potensic has given pilots the chance to own their very own Phantom 4. The T25 is definitely not made with the same quality materials or has the same advanced tech that makes the Phantom 4 what it is. However, the drone is still an amazing product.
Follow me: The follow-me feature is one of the flight modes that allows the drone to track your phone via the app and follow you around while recording or taking pictures. This is possible thanks to the assistance of dual GPS systems.
Camera: The Potensic T25 has a 1080p Camera and 9 Axis Gyroscope that will keep the footage taken with the drone crisp and steady when recording.
Flight Time: The T25 will stay in the air for 10 Minutes of flight time.
Price: It will only cost you a mere $130 to get your hands on this great drone by Potensic.
7. Eachine E511
The DJI Spark is an amazing drone, but sadly if you are on a budget, it will probably be out of reach.
The Eachine E511, however, is not out of your budget, and it offers some pretty amazing features as well. The fact that it is cheap also makes it perfect for beginners!
The drone was designed with portability as the primary focus. With the ability to be folded down and stored easily in a suitcase or backpack, makes it perfect to be used for travel.
The E511 also allows you to switch to FPV goggles to get a different perspective of flying the drone. Thanks to the GPS Navigation, the drone is also equipped with obstacle avoidance and a follow-me feature.
These features come in handy if you want to take some hands-free videography and photography.
Camera: The E511 has a 720p camera, and 6-Axis Gyroscope attached, which stabilizes all the footage.
The drone also has a 360° roll feature, which is great to play around with.
Price: At only $139, this drone is a steal for the quality you get.
8. Hubsan X4 H501 A Plus
Usually, when looking at budget drones, you will find that a lot of them are pretty bare-bones on features!
This isn't usually a bad thing. Having too many features can overwhelm a beginner pilot who is new to flying drones. When a drone is simple and straightforward, it makes the learning curve for drones a little more bearable.
However, it is still nice to have budget drones that provide a lot of top-end features. These drones are better for those who want a good drone with lots of features to enjoy, but also have a budget.
This is why the Hubsan H501 X4 is such a good drone. It offers some great GPS features that are usually reserved for premium drones. The GPS features allow it to have an auto-return home mode, where the drone will automatically head to the designated take-off location.
It also has a good follow-me mode which is also a feature usually only premium drones will have. It has a solid battery life, and the ability to control the drone from a smartphone if you want to.
Flight Time: It can fly for around 18 to 22 minutes, which is extremely good for a drone of its price.
Price: Get ready to have some of the best flying experiences for only $142.
If you're looking for a drone with useful features and a great camera, as well as being easy to fly, it is hard to find something suitable as the Hubsan X4 H501 A Plus.
9. Holy Stone HS100
It's no surprise that yet another Holy Stone drone would make it on this list, after all, they are just that good!
The drones they make can't be considered drones, and maybe best described as budget drones. The HS100 is one of the best beginner-friendly drones on the market, with a great price with impressive features.
Thanks to the GPS that the drone is equipped with, the drone has a cool return to home feature that will help any new drone pilots.
All these features combine to make a simplistic, yet highly functional drone.
Camera Quality: The one downside of the Holy Stone HS100 is that the camera is attached to the bottom of the drone, which limits the angles you can take pictures in.
However, the camera is a 2K HD camera. The drone also has a 1-axis gimbal attached to it, which makes the footage stable.
Flight Time: The drone can stay in the air for a solid 18 minutes of flight time.
Price: The HS100 is very cheap and only costs $149.
10. Syma X8 Pro
The built-in GPS in the Syma X8 Pro is excellent. It can still maintain its stability in the wind.
Camera: The Syma X8 has a 720p HD camera.
This camera is mounted on a 1-axis gimbal that is there to steady the camera.
Price: The drone is available on a number of online stores including Amazon, for the low price of $189.
Range: The drone is able to travel 70 meters before needing to return home for a recharge.