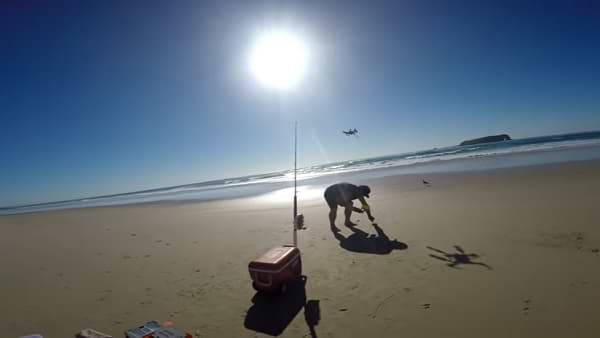 You might be planning to start using a drone to start fishing, but you might not want to spend hundreds of dollars on a drone! Well, I did some research and found a few drones that are affordable but still great.
It is hard to pick out a drone to buy with so many available on the market. It makes it a lot harder to choose if you factor in the fact that you will be using it for fishing.
| | | | | | |
| --- | --- | --- | --- | --- | --- |
| Drone Name: | Camera Quality: | Flight Time: | Max Range: | Price: | Purchase Link: |
| Yuneec Mantis Q | 4K | 25 min | 4,921 ft | $499 | VIEW |
| DJI Mavic Mini | 2.7K | 30 min | 2.5 miles | $344 | VIEW |
| 3DR Solo | 4K | 25 min | 2640 ft | $499 | VIEW |
| Hubsan H501S | 1080p | 20 min | 984 ft | $150 | VIEW |
| DJI Spark | 4K | 16 min | 262 ft | $499 | VIEW |
| EACHINE E520 | 4K | 16 min | 984 ft | $140 | VIEW |
Table showing the best drones under $500 that can be used for drone fishing.
Yuneec Mantis Q*
The Yuneec Mantis Q is a great addition to the drone market as it has great features, but also adds additional features that bring something new to the game!
Flight Time: The Mantis Q has a flight time of 25 minutes which will be great in order for you to fly out to sea, hover around, and return in time.
Camera: It can take a magnificent 4K video and this will really help when it comes to scouting and looking for fish.
Voice Control: The drone brings something new to the game with this new voice control feature that will really help you control the drone while you reel in that big catch!
Price: at $499 it just fits on to the list and it really is worth it.
DJI Mavic Mini
Whenever you make a list about the best drones you just have to have a DJI drone in there!
In November 2019 they released the Mavic Mini. which was a huge game-changer when it comes to compact portable drones.
Weight: The Mavic Mini is probably DJI's most consumer-friendly drone and it weighs less than 0.55 lbs, meaning that it doesn't have to be registered with the FAA.
Registering a drone with the FAA is not bad, but it's just some red tape you don't have to cut through with this drone.
The size of this drone also means that its easier to travel with and if you are like me, you want to do anything to reduce the weight of all that fishing gear!
The size might be a problem if you are looking to actually pick up fish using the drone, but if you are looking to just drop your line using a drone then this is perfect.
The Mavic Mini is the perfect small drone for anyone who is looking for one. It doesn't matter if you are a long-time hobbyist or a beginner, it is a brilliant drone to have and super easy to use.
Design. The Mavic Mini is basically the Mavic Pro, DJI just made a few adjustments to make it more portable and compact. Even though the Mavic Mini is smaller in size, it doesn't compromise its ability.
Despite its small size, the drone still has a 30 minute flight time which means it's perfect for hovering above the water to look for fish.
Price. The Mavic Mini is the cheapest drone that DJI offers. Being only $399 it is a great price for its amazing features and ability to help you out fishing!
3DR Solo
The 3DR Solo is not a very well-known drone, but it is really making a name for itself in the community!
Flight Time: With a flight time of 25 minutes that rivals the best drones on the market, it gives you plenty of time to hover around and find a spot to lower your line.
Camera: Unfortunately, the drone doesn't come with a camera. But, it is able to mount a GoPro!
I recommend The Hero 7 for the quality, but the drone is able to mount any GoPro so feel free to mount one that you already have.
Cool Features:
The 3DR Solo has 5 different autonomous flight modes.
It has a return home feature that can save you time while reeling in the catch of the day.
Hubsan H501S
The Hubsan H501S was one of the first drones that were made by the Hubsan company that they released with GPS functionality.
Hubsan usually makes toy drones, so this was a big step in the right direction for them. The earlier drones from the company did not have the tools for navigation and object avoidance and in fact, did not even have flight assistance!
The GPS system in the Hubsan H501S allows for it to have the ability to hover and even set a predetermined GPS controlled route through the app on your mobile device.
This will help if you are fishing alone and need the drone to fly by itself for a bit while you reel in the fish you just caught.
Hover Ability: With the release of the H501S, all these features are now present and it even has the ability to hover in place and the drone pilot is able to set a GPS controlled route.
Flight Capabilities: The H501Shas a flight time of 20 minutes and can fly at a max speed of 45mph.
Range: Sadly it only has a range of 984 feet but it is still an amazing drone for beginners with a great price tag.
DJI Spark
The DJI Spark, like the Mini, is a very small drone. It is just a little bigger than your average smartphone. This makes it great to travel with and bring on fishing trips!
Flight time: Despite its small size, the drone has quite a lot of power behind it which can power it for up to 15 minutes.
Controller: With the dedicated controller, you can fly the drone miles ahead of its nearest competition when it comes to drones!
Without the controller and just using a smartphone, you can still fly this drone further than most of the drones in its class that require controllers.
The Spark was designed to be a fun little mini drone for beginner drone enthusiasts, but at the same time still having the features and qualities that every DJI drone is known for.
Gimbal. The drone also has a mechanical 2-axis gimbal camera helping to stabilize all your amazing video footage.
Price. The spark only costs around $350, so if you're new to droning, this might be a great starting point until you are able to move on to bigger, better things.
EACHINE E520
This drone is very cheap and proves that you do not have to spend hundreds of dollars on a drone in order to get a drone of good quality.
The E520 is definitely trying to compete with the Mavic Air but at a fraction of the price!
Design. It is easily folded up so you are able to travel with it and can easily fit in your fishing gear with ease. The drone can even fit in your pocket if needed.
Camera. The camera can also rotate 90 degrees downward to allow you to take photos and look at the area directly below the drone. This can come in handy if you are trying to see any fish without moving the drone position.
The drone is also very agile, allowing the pilot to move freely in the air and be very nimble in the air.
Price. At just $140 it comes at a lower cost than the Mavic Air. This makes it a great start for anyone who is just starting out in the drone world.
Cool features:
3-axis gimbal which helps stabilize the camera for some smooth camera footage when recording.
6-axis gyro which can have more stable flying and be easy to control.