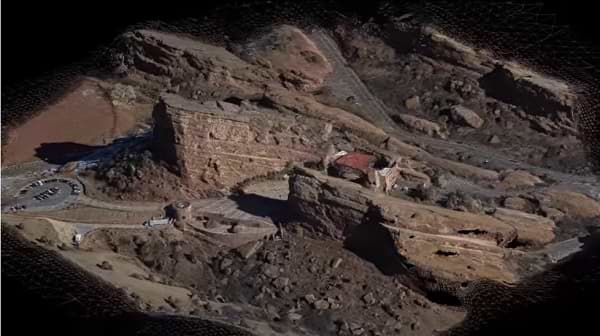 Mapping using drones can be extremely useful, but once you have taken the photos, you need decent mapping software to stitch it all together into a 3d map. Mapping software can be extremely, so before you go out and spend hundreds of dollars, try some of these free options.
Here are 15 of the best free drone mapping software available online for you to download today:
Table of all the free drone mapping software.
Keep reading for more in-depth information on each of these software and what makes each of them great!
01. PrecisionMapper
PrecisionHawk has made the PrecisionMapper drone mapping software free, to the pleasant surprise of many! This is now open-access software since 2017.
The company stated that this was done to promote innovation in the community, as well as a way to give back to the community.
If you are looking for mapping software that is able to process the aerial images you take with a drone, then PrecisionMapper is a professional mapping and analytics software that can do that for you!
And you can use it to embed GPS information and to stitch together a map that is viewable in both 2D and 3D. PrecisionMapper is free to use for up to 60 surveys per year, without any limitations on the resolution or number of exports. But, you also have the option of paying for a subscription.
The free version is amazing, and if you decide to use it, you won't feel cheated or short-changed in terms of the service provided. The free version has many unique features and not just 3D map reconstruction.
This version can also perform volume calculations, contour maps based on altitude data, and you can even use it to generate NDVI maps to monitor the health of crops!
This software certainly has everything you are looking for.
02. WebODM
OpenDroneMap introduced another open source and free software called WebODM. The software was released back in 2017 and has continued to grow thanks to a community of hard-working code contributors.
The software might be free, but the only problem is that the auto-installer isn't free. A way around this is installing the software manually using GitHub.
The process isn't too tricky, but some might not be up to the task. If you feel like you aren't able to do this, then this might not be the software for you.
If you are able to download WebODM using GitHub, then you will find that it has some of the best features and algorithms of any open-source mapping software on the market!
It has a lot of the usual features, such as being able to generate orthomosaics, 3D models, point clouds, contour maps, and digital elevation models (DEM).
If your survey needs to have ground control points, the WebODM software allows for the adjustment of georeferencing.
Like any open-source software, WebODM has a few flaws, it isn't very user-friendly, especially if you are a beginner pilot with no previous coding experience. However, the software is worth it!
03. DJI GroundStation
If you are a DJI drone pilot and are looking for mapping software, DJI has your back! They created the DJI GroundStation mobile app.
This software is different from the other software in this list, as it is designed for mission planning and monitoring. At a push of a button, the app will command the drone to fly along a pre-determined path and capture aerial images at an overlap.
DJI always has its pilots' backs and this software eliminates a lot of the guesswork involved in choosing where and when to capture aerial images. The user interface is sleek, intuitive, and is the software equivalent of a DJI drone.
Even if you haven't used drone mapping software or never done drone mapping before, the GroundStation software is easy to use. The software is capable of all your needs when it comes to drone mapping, but it also allows for the user to upgrade the software to add additional capabilities.
The one thing that puts the Groundstation app behind the other software on this list, is the fact that it is only used to plan missions. It is not capable of post-processing.
If you want to create a 3D map, you will have to opt for other software on this list.
04. RAPID by DroneMapper
DroneMapper has pulled through with a simple photogrammetry software that is free to download. RAPID can process up to 150 images per project, which isn't the best since it is limited, but it is free.
The data processing is not cloud-based, so there will be some waiting time before you can get the results. But of course, that also depends on the processing power of the computer you are using.
RAPID can create various images such as orthomosaic, DEM, and another orthomosaic scaled at four times the native resolution! The software can also create three types of output from the aerial imagery, and the previews are saved in GeoTiff format.
RAPID also has a more advanced PAID version called REMOTE that you can purchase if you like the software.
RAPID has fewer features than other software on this list, however, it still has one of the simplest, and easy to understand interfaces on the list, which is a huge advantage to a lot of users.
If you are new to drone mapping and are looking for excellent free software, then this is the place you should start!
05. DroneDeploy
DroneDeploy is not fully free, but it is one of the most elite, advanced drone mapping software out there! It does allow for a FREE trial period so you can test out the software and see if you will end up paying for the final product.
This isn't a bad deal. It basically gives you time to experience using one of the most popular 3D mapping solutions. DroneDeploy is also compatible with a lot of third-party apps, in a way acting as an entire ecosystem.
If you want to focus or specialize in a specific mapping aspect, Birds.ai and EZ3D can be paired and linked with DroneDeploy. This way, functions are also provided by these apps.
Because this software requires you to sign up for a paid version after a certain amount of time, it has a level of polish that you just can't find in free mapping software.
The mobile app can also be used for mission planning and real-time monitoring of collected data. The user interface is user-friendly, which means even beginner drone pilots can complete mapping projects without any problems.
However, there is still a significant disadvantage of not being free mapping software. But if you are looking to do drone mapping professionally or you like the software, then I highly recommend this software.
06. Pix4Dmapper
With Pix4Dmapper you can create professional 3D maps and models from images. It does this by turning the images into geo-referenced 2D or 3D maps and models.
All the 3D maps are customizable and you even have the ability to import them in other programs.
There's also a free app that can be paired with this software! The Pix4Dcapture will assist you in automating both the flight of your drone and its image data transfer.
It is also possible to upgrade to a paid version with more features if you want to expand your capabilities with this software.
07. DJI TERRA
DJI comes through once again with another mapping software! DJI TERRA is developed by the DJI drone company and provides a professional environment to perform captures and analyze them.
Depending on the type of project you are working on, there are different planning options within the software. Area, Waypoint, and Oblique allow you to plan various flight paths, drawing specific regions on a flight map and more.
However, this software needs to be paired with a specific type of drone, and yes you guessed it, it needs to be a DJI drone! More specifically, it can only be used with the DJI Phantom 4 Series at the moment.
08. Bentley ContextCapture
If you happen to work for a larger surveying or GIS company you'll probably already have a Bentley subscription of some kind for one of their other software packages.
If you do, you have probably heard of, or already have ContextCapture. ContextCapture enables its users to capture a real-life representation of a physical asset or assets.
The software doesn't only work with photogrammetric data. You can also create truly incredible 3D models and maps using LiDAR-derived point clouds.
The only downside of this software is that it is a bit too overly complicated and may come across as over-engineered. Many beginners might find the software to be too complex, so it's best left to those who already have a certain level of data processing experience.
09. Regard3D
Adding to the list of free, open-source software we have Regard3D. This software can convert photos that have been taken of an object from different angles into a 3D model of this object.
This is usually known as a "structure-from-motion" program, and when this is done you can run the final product on multiple platforms. On the Regard3D website, you will also find tutorials that will help you learn how to use the program.
This software is very powerful, which is not a common occurrence among free software! The user interface and settings also need some time to get used to, but once you have a grasp on everything, this software is a powerful tool!
If you are new to using drone mapping software and are looking for a place to start, then Regard3D is the software for you. If you are confused about how to use the software, Regards website has all kinds of tutorials to help you along, and get you up to speed.
10. Meshroom
Excellent, free, open-source photogrammetry software to use for drone mapping is hard to come by, but I think Meshroom is definitely one of my favorite software out there!
Meshroom is free and based on the AliceVision framework. Being able to create 3D models by connecting all the steps of an easy-to-use node-based workflow.
It's easy to use and very user friendly, which is great for anyone new to drone mapping. Each of the nodes can be tweaked to get exactly the result you want, which perfects the workflow.
The more you learn to use this free photogrammetry software, the more you will benefit, and the better your results will be.
11. MicMac
The French National Geographic Institute has created this free, open-source photogrammetry software.
MicMac has a sophisticated feature-set that is mainly suitable for professional or academic use, but it can be used for general users as well. People in many fields use this software and MicMac has proven itself as a versatile tool that can be used in any industry.
Using this software you can generate 3D models and orthographic images. With the software, you can handle any type of object, of any scale. You can survey large plots of land as well as scan small objects!
It is also able to process aerial images and footage for drone mapping.
MicMac's website has a lot of detailed tutorials that will help you with anything you may be unsure of.
12. Multi-View Environment (MVE)
This software is a complete end-to-end pipeline for image-based geometry reconstruction. The Multi-View Environment or MVE features Structure-from-Motion, Multi-View Stereo, and Surface Reconstruction.
The user interface isn't the best, but the software itself will definitely do its job and you will have the results you need!
13. OpenMVG
Multiple View Geometry (MVG) community and computer-vision scientists use this software and it is very popular amongst them!
It focuses on the structure from motion (SfM) technique of photogrammetry. The software is tried and tested to make sure that end-users are able to use it properly.
This software is not the easiest to use, so it will require users to learn how to use it. It is an accessible tool that fits into the workflows of other photogrammetry tools.
14. VisualSFM
VisualSFM is a photogrammetry software that, like a lot of software on this list, uses the structure from motion (SFM) method to generate point clouds.
Users can choose what interface they would like to work with, and they have the choice of working with the command-line or a GUI.
This software was built by a software engineer at Google, Changchang Wu. This was part of his own personal research and that is why this program is only free for personal, non-profit, or academic use.
15. COLMAP
COLMAP is on this list, because like the rest it, is a free photogrammetry software!
The software is available for download from Github. Similar to VisualSFM, you can run either from the command-line or operate it like any other program with a GUI.
And similar to VisualSFM, COLMAP is a program created by researchers, and despite basically being a side project, the software includes many highly advanced options.
With this software, you are able to extensively define the type of camera that was used to capture the imagery. The features allow users to generate a quick and easy 3D mesh. However, you can only work with the dense point cloud the viewport.
To be able to clean up and refine the 3D mesh, you need to work with other programs like MeshLab.