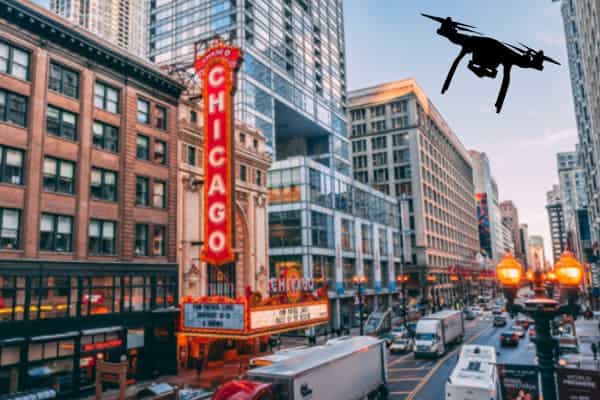 I have a trip to Chicago coming up, and I was wondering if I should bring my drone with me. I did some research into whether this is allowed, and here's what I found!
According to the FAA (Federal Aviation Administration), you can fly your drone in Chicago provided that you follow the various state and city drone laws pertaining to recreational flying. Before you fly, you need to first register your drone with the FAA, and adhere to their set rules and regulations.
Keep reading to learn more about the rules and regulations for drone flights surrounding the city of Chicago and Illinois, as well as some of the best places you can safely fly your drone in the surrounding area.
What Are The Chicago Drone Laws?
During my research, I found that the city of Chicago does not have any local city laws against the use of drones.
It is important that as a drone pilot, you follow all the FAA rules and regulations at all times in order to ensure that everyone in the area you are flying in is safe and that you aren't breaking any laws and flying recklessly.
When flying a drone, you can either fly as a recreational pilot or as a commercial pilot.
Here are a few of the rules and regulations you need to follow as a recreational drone pilot:
Recreational FAA Drone Laws
Register your drone with the FAA if it weighs over 0.55 lbs and under 55 lbs.
When flying your drone, only fly for recreational purposes.
Always fly your drone below 400 feet.
When flying a drone, always fly in Class G airspace unless you have authorization using the LAANC system.
Make sure your drone always remains within your visual line of sight.
Do not interfere with manned aircraft.
Do not fly over people or moving vehicles.
There are many more rules that you should be aware of before your drone leaves the ground.
It is your responsibility as a pilot, to make sure you are abiding by all the drone laws, especially when flying in a city with people and buildings around!
For more information about the recreational drone laws, visit the FAA website.
What Are The Illinois Drone Laws?
As you should know, each and every state in the United States has its own additional rules and regulations that it adds on to the already existing set of rules that the FAA has set.
The State of Illinois offers a wide range of cities that would be perfect to fly in, but before you can look at the rules for those cities, you need to look at the rules for the state.
Illinois was one of the first states to put in place regulations on the use of drones in the State. These regulations help control where people can legally operate drones.
State Laws
HB 1652 // 2013 – In the State of Illinois, it is illegal to operate your drone in a way that will interfere with hunters and fishermen.
SB 1587 // 2013 – This law allows for the use of drones by law enforcement who are in possession of a warrant to either counter a terrorist attack, prevent a suspect of a crime from escaping, or prevent harm to life.
If a law enforcement agency uses a drone for any other reason besides the above, the agency must destroy all the information that was gathered using the drone within 30 days.
City Laws
Schaumburg – In the village of Schaumburg it is illegal to fly a drone within 100 feet of the village perimeter.
Evanston – The city of Evanston currently has a temporary prohibition on flying drones within the city until reasonable regulations can be enacted.
McHenry County – In the county, it is prohibited for drones to be operated within any property owned by the district without the permission of the Executive director.
Crystal Lake Park – This law states that the operation of drones within any of the Park District properties is prohibited.
However, you are allowed to fly a drone in specially designated areas or with permission from the special Parks Districts program.
4 Best Spots To Fly Your Drone in Chicago
Chicago is a big area and this means there are a lot of places to potentially fly your drone. However, when choosing where you want to fly your drone you need to be very careful because the city has various airspaces, and you can't always fly in all of them.
Here are just a few of the best places to fly your drone in Chicago:
1. Grant Park
Grant Park is a large park located in an urban area in the downtown area of Chicago.
One of the most prominent, and memorable features of Grant Park is the Buckingham Fountain. This fountain was built in 1927 and is recognized as one of the largest fountains in the world. The fountain has daily water shows that are amazing to look at, and will always look great on drone footage.
The park has fantastic views of Lake Michigan and the Chicago skyline, both of which are perfect for drone shots.
Grant Park is located in Class G airspace, which is uncontrolled, so you are free to fly as you please as long as you abide by the usual FAA drone laws.
2. Promontory Point
Promontory Point is located in Class G airspace, which is uncontrolled airspace. This means you can fly your drone in the area and capture some fantastic footage as long as you follow the FAA's drone rules and regulations.
It is a man-made peninsula made from a landfill and limestone. It reaches all the way into Lake Michigan.
This park has a raised meadow that is located in the center of 12 acres of land. It is known for having brilliant expansive views of Chicago's downtown skyline.
The park also has a great view of Lake Michigan, one of the best views that Chicago has to offer, in fact! There is plenty of space to fly your drone, this paired with all the amazing views makes Promontory Point a great spot to fly a drone.
3. Montrose Avenue Beach
Montrose Beach is located on the shores of Lake Michigan. It is located in Class G airspace, which is uncontrolled, leaving pilots free to fly as they please as long as they stick to FAA rules and regulations.
The beach has a lot of concession stands for food and drinks, beach volleyball for those who want a fun activity to enjoy. You can even rent kayaks for the whole family while you film with your drone.
There is a lot of space which means it is a lot easier for you to find a spot where there are no people and you can fly your drone in peace. One precaution you might need to take note of is the natural bird migratory sanctuary.
Birds cause heavy traffic in the sky during the migratory season and that may cause issues for both you and the birds if you do not take the right steps to avoid them.
Located behind the beach is a harbor that will give your drone footage a little change of scenery, as well as give you more options when it comes to B-roll.
4. Chicago Riverwalk
Located in Class G airspace, the Chicago Riverwalk is a strip of water that is located in downtown Chicago, near the southern bank of the Chicago River.
The Riverwalk was completed in 2017 after 16 years of development. Now it features lots of entertainment, restaurants, and even fun little boat rentals. All of these things make for a great spot for a drone flying outing. The river is also surrounded on both sides by massive Chicago skyscrapers!
Along the river, you will find bridges, which will be able to add another perspective to your drone footage along the river.
As I mentioned before, the Riverwalk is situated in Class G airspace meaning it is not controlled, and you can feel free to fly there for recreational purposes!