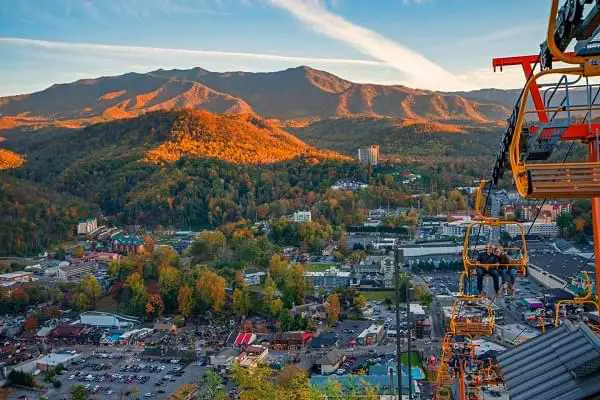 Gatlinburg is a mountain town in the eastern region of Tennessee and is known as the Smoky Mountain gateway. Gatlinburg is a beautiful location perfect for flying a drone, but are you allowed to?
Gatlinburg is located very close to a National Park, but fortunately, it is not within its borders, so you are allowed to fly a drone in Gatlinburg. However, it would be best if you remembered that while drone flight is permitted here, drone flight in National Parks like the Smoky Mountains is not permitted.
Keep reading to find out more about the spots in Gatlinburg you need to stay away from and the best spots to fly in Gatlinburg.
Great Places to Fly a Drone in Gatlinburg
Gatlinburg is a beautiful mountain town in Tennessee that is on the border of the Great Smoky Mountains.
It is sometimes known as the gateway to the Great Smoky Mountains, and rightly so, This area is so beautiful and located right near the National Park, that it might as well be in the Park.
But luckily for drone pilots around the country, it is not, and that means as long as you are following the normal FAA drone rules and regulations, you are allowed to fly here.
There are a few locations within Glatinburg that are prime spots for drone pilots to check out.
Here are a few of those locations:
Friendly Falls – Friendly falls offers something for everyone. Whether you enjoy the beauty of nature, family outing, or you are getting married by the waterfall, this is the perfect location for you.
And for drone pilots, this location is perfect to be able to capture the amazing flowing waterfall from an aerial point of view.
Douglas Lake – Douglas Lake, which is also known as Douglas Reservoir, is a lake located only a few miles from the Pigeon Forge/Gatlinburg area.
This is great for fishing and family outings, but as a drone pilot, you will be able to fly and capture the surroundings with plenty of space.
And if you would like, you could even try drone fishing.
Harrisburg Covered Bridge – The Harrisburg Covered Bridge is a historic covered bridge located in this part of Tennessee.
It is also one of the most scenic and photographed locations.
Emerts Cove Covered Bridge – This is a beautiful place to fish or take a walk along the river.
Use your drone to record the bridge and the water running below it. The nature and trees around it also make an amazing backdrop.
Can you fly drones in State Parks?
You are allowed to fly drones in State Parks unless it has been prohibited by a District Superintendent's posted order.
Drone flight may be prohibited in a State Park for a number of reasons:
Public safety
Recreational conflict
Protection of a threatened species.
Threats to a cultural or natural resource.
High fire danger
Impact on visitor privacy and park experience.
Most State Parks suggest that recreational flyers check with the park they want to visit before they fly a drone in that area.
There are a few State Parks located within the Gatlinburg area. It should be ok for you to fly a drone within the State Parks but as a precaution it is best to check with the park beforehand.
Places You Can't Fly a Drone in Gatlinburg
Drone flight is not permitted within National Parks thanks to a ban on all drones issued by the NPS.
This means that the Great Smoky Mountains are off-limits to all drone pilots unless you have a special permit to fly in that area.
Because of its close proximity to the Great Smoky Mountains, a lot of drone pilots have wandered into the park and decided to take off within the park which is very illegal.
It is legal however to take-off and land from outside of the park but here are a few areas that are definitely within the no-fly zone
Nature Trailhead Campground
Mount Le Conte
Cades Cove
Newfound Gap
Clingman's Dome
This list is to offer you a little clarity on what tourist attractions are actually within the National Park.
FAA Drone Laws
Drone Rules For Recreational Flyers/Hobbyists
Always fly below the 400 ft limit.
Your drone must always remain within the visual line of sight.
Must register your drone with the FAA.
Pilots must stay away flew near other aircraft.
Pilots must only fly for recreational purposes.
You must follow all the community-based safety guidelines.
Must fly in Class G airspace unless you have FAA approval to fly in another area.
Do not fly near emergency response efforts.
Your drone needs to weigh less than 55lbs.
You cannot fly directly over people who are not involved with the flight.
You cannot fly over moving vehicles.
State Rules – Tennessee has a statewide law prohibiting drones from capturing images at open-air events and venues.
Choose Your Airspace – It's very easy to fly into the National Park by accident. So, it's really important that you know your airspace. The DJI GO app or the Airmap application, are both very good ways to make sure you are allowed to fly in the area you are in.
The apps also let you know if there is an airport nearby or any other aircraft in the area that you should be aware of.
Stay Away from Manned Aircraft – Again, another obvious one. In places like Gatlinburg that are very close to National Parks, helicopter tours are always happening.
These helicopters will fly low because tourists need to be able to see the ground below them, drones often have close calls with these tours, and that is actually one of the reasons why drones were banned from National Parks.
You need to use the drone apps to notify you of any of the small airports that might be in the area.
Keep your Drone in Line of Sight – Sometimes it can be very easy to lose sight of your drone while flying, especially if you are always looking at your screen.
That's why it is important that you constantly look up and keep your eye on your drone at all times.
It's also a good idea to have a visual observer or helper to assist you when flying.
Even though this isn't a requirement by the FAA, it is still advisable and will help you keep your flight safe.
Don't Fly Over People – It would be really cool to fly your drone and in the footage you see people looking up and admiring the drone in the sky.
However, drones can be very dangerous if they fall out of the sky, this is why pilots are not permitted to fly their drones over people who are not directly involved with the drone's flight.
Gatlinburg is a place where many tourists come to visit, and that is why there are constantly people in the area.
Wherever you decide to fly your drone, make sure to keep an eye out for people who may be in the area.
Flight Maps
Airmap, B4UFly, DJI GO, and Kittyhawk are all applications that are available on the App Store or the Playstore.
These applications allow drone pilots to view aeronautical data before they actually take-off, by doing this pilots are able to maneuver their drones with ease.
You can also plan your flight path on the app to make sure that you avoid any No-Fly Zones or airports that are in the area.
The apps allow pilots to stick to all the laws by notifying them where it is safe to fly as well as notifying them when there are any flights nearby.
Every Drone enthusiast should be using one of these applications in order to fly a drone safely.