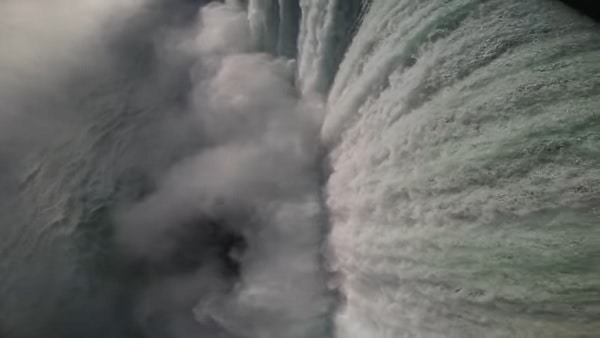 Niagara Falls is on the border of Ontario, Canada, and the state of New York and has some amazing views, with thousands of tourists flocking to see it! But, can you fly a drone there? Here's what I discovered.
With an increase in drone popularity, visitors of Niagara Falls are not permitted to fly drones on the property unless they are authorized to do so with a permit. Transport Canada Federal Regulations has also made the airspace above Niagara Falls a designated restricted area on the Canadian side.
That said, there are areas around Niagara Falls where you can film and you are also able to apply for a permit, so keep reading to find out how you can do this!
How To Photograph Niagara Falls Using a Drone
Niagara Falls is a beautiful location with majestic falls that are amazing to capture using a drone for some amazing footage.
However, Niagara Falls is located on the border between the United States and Canada, which means there would be different rules on each side of the falls depending on which side you are on. This is why the rules concerning the rules and regulations of Niagara Falls are controlled by the Niagara Parks Commission.
This ensures that commercial filming and photography on the property are managed fairly and is conducted in such a manner as not to interfere with the enjoyment of Niagara Parks by its visitors.
How to Fly in Niagara Parks
In order to fly your drone on the property, you need to request a permit before you do any flying. Any request for filming and photography must be forwarded to the park for approval.
In order to film, videotape, or record video commercially you are required to provide the park with an approved permit. This permit is required for the following:
When filming or photographing models/actors, professional crews, or props.
Advertising for products or services.
If there might be potential damage to Park resources or disruption of visitor use
If you will be flying in an area that is not usually open to the public.
If you will be flying before or after normal operating hours.
For more information, have a look at the Niagara Parks Filming and Photography Policy.
Additionally, you can apply for a permit to fly in Niagara Parks by filling in an application that you can download here.
Anyone who wants to fly a drone in the park, whether it be for commercial or recreational purposes, it is your responsibility to make sure that you fly safely and legally.
And once you are all set you can be rewarded with footage like in this video of a DJI Phantom 2 flying over the Falls:
Besides being aware of the fact that you need a permit to fly in the Niagara Parks area, you also need to realize that the Falls create a serious updraft and that causes the area to be extremely windy.
This means that you can't just fly your drone as you please because of the added danger of the harsh weather conditions in the area.
What Are The Consequences of Flying in Niagara Falls Without a Permit?
Flying a drone in a restricted area without permission from the people in charge of that area is very illegal and you could end up in a lot of trouble.
Here are just a few of the things that could happen if you decide to not apply for a permit to fly in Niagara Falls:
Firstly, the Rangers in charge of Niagara Parks could take action by confiscating your drone and equipment.
You could be prosecuted, and your equipment held as evidence until trial. Violation of the ban is a misdemeanor with a maximum penalty of six months in jail.
You could be issued a citation and fine. The maximum fine is $5,000, but that also depends on how lenient the Rangers are feeling.
Just tell you that you are flying illegally and tell you to leave.
The level of your punishment will all depend on the Ranger that catches you in the act. So at the end of the day, it is really not worth taking the chance!
As long as you follow the rules and apply for a permit before attempting to fly over Niagara Falls, then you are guaranteed to have some amazing footage.
I am sure even if you risk it, and try to sneak in a short illegal flight hoping no one catches you, the footage will still look amazing.
But unfortunately, there is a huge chance that you will never see it!
What Are The Niagara Falls Rules and Regulations?
Niagara Falls is a controversial place as you are not allowed to simply fly a drone within the park, however, you are allowed to apply for a permit to fly there temporarily.
This tends to confuse a lot of pilots who think they are allowed to simply fly at the park when they should've done their research first!
There are rules and regulations that a pilot needs to follow regardless of whether they are a drone pilot or a pilot of larger machinery such as planes and helicopters.
One of the rules is that flying any aircraft over Niagra Falls, below 3500ft, without FAA / CAA permission is against the rules. Now you might be wondering, how are the helicopter tours operational?
Well, the helicopter tours that fly over the Falls have received a special exemption.
Here are some tips to make sure you stay out of trouble:
Do your research before attempting to fly. The best way is to enquire about Park drone rules with the Park itself.
Apply for a permit to fly.
Check out the airspace on AirMap.
The Canadian Niagara Falls Regulations has strictly prohibited the flying of drones. So I recommend not flying on the Canadian side. This applies to Canadian land and the Canadian side of the river.
FAA Investigating Drone Incident at Niagara Falls
The Federal Aviation Administration(FAA) is investigating a near-miss incident between an Unmanned Aerial Vehicle(UAV) and a helicopter. The reason why they know about this incident is that the near-miss was caught on camera in an online video taken by a Park visitor.
In the online video, the first few seconds are capturing the beauty of the upper Niagara River rapids, as well as the sky above the local landscape. The UAV flies towards the left toward the Niagara Scenic Parkway, and at that moment a local air tour helicopter flies in from the bottom of the frame. 
The vice president of marketing for Rainbow Air Inc. touring company, Pat Proctor, had a few words about the incident during an interview with a Niagara Gazette reporter.
"I'm glad you and I are talking about this as an incident and not a disaster."

Pat Proctor
He also goes on to say that when he first saw the footage he was alarmed but, unfortunately, not shocked. He then goes on to praise his pilots, who he says are highly-trained and familiar with scanning the skies in flight for any foreign objects.
This is clearly the reason why they consider this to be an incident and not a disaster. When the pilots saw the video, they likened the behavior to the non-permitted or irresponsible use of a firearm. 
Because a permit is needed if you wish to fly a drone in the Park, it allows the Park to communicate with tour companies about potential flying objects in the area.
This drone, however, did not have a permit and almost caused a huge accident, risking the lives of many people!