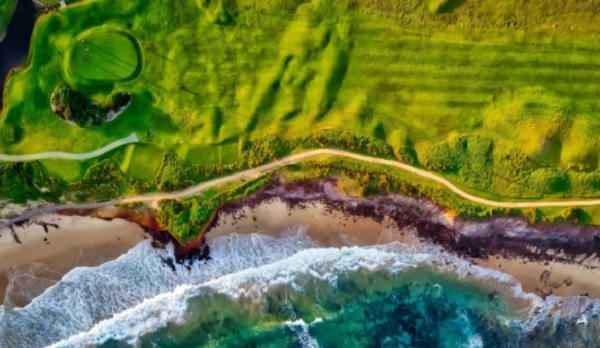 Drones are great to fly and recently have become more popular. Golf has always been a popular sport, and golf courses are beautiful places, but can you bring a drone to a golf course? Here's what I learned.
There are no laws against flying a drone over a golf course. However, a golf course may be located near an airport, which would require you to check the B4UFly application before you take off. It is also best to check with the management of the course if you can fly, as it is still private property.
Keep reading to find out how you can fly over a golf course with a drone without facing any legal troubles!
How To Tell If a Golf Course Is a No-Fly Zone
In order to know if a Golf Course is a No-Fly Zone or not, you need to download the B4uFly app on your smartphone. Before we get started, here is some important information you need to know before installing the app:
What is The B4uFly App?
Let me put this super simple, the FAA (Federal Aviation Administration) controls all aerial traffic in the United States and makes all the rules and regulations concerning aerial vehicles.
The B4uFly application is an app created by the FAA that tells you where and when you can fly, as well as areas that are off-limits for drone flight. This app provides you with some of the most detailed airport listings around, clearly displaying a 5-mile radius around each and every airport.
The app was made specifically to assist recreational drone pilots.
To make this app, the FAA partnered with Kittyhawk, this was done so the user experience for the pilots would be improved. It is very important that you use the B4uFly app before you attempt to fly your drone anywhere.
Golf courses are especially dangerous to try to fly over without using the application first as they might be a No-Fly Zone. When using the app, you will see an interactive map of the area you are located in.
If a golf course is a No-Fly Zone then there will be a ring around it or the golf course itself will be inside a ring.
Are Golf Courses Always No-Fly Zones?
The FAA has no rule that says you are not allowed to fly a drone over a golf course, but there are other drone rules that might make it illegal to fly a drone over a golf course.
It is also a grey area because a golf course is usually located on private property that is owned by a specific group or club. When flying a drone over private property it can always end badly and that is why it is often a tricky situation.
But are golf courses always located in No-Fly Zones?
No, golf courses are not always located within a No-Fly Zone, however, there are a lot of golf courses that are located near airports and that is why they are then in a No-Fly Zone.
This is why it is important to check if the golf course you want to attempt to fly over is in a No-Fly Zone by using the B4uFly application.
There is something very important that you also need to do before you fly a drone over a golf course, and that is to check with the manager of the course.
Because golf courses are usually private property, it is not advisable to just fly over the area as the people in charge of the course might not take it well.
Golf courses are also supposed to be quiet places for people to unwind, a drone is not the quietest piece of tech, so it might distract people who pay to play golf on this course.
Flying a drone over a golf course legally with no issues would require a few things:
Firstly the golf course would need not to be located in a No-Fly Zone.
You would also need to ask for permission from the golf course to fly over the property.
If the golf course is in a No-Fly Zone, you would need to use the LAANC system to ask for permission to fly in the zone.
If you have completed all of the above steps, you will also need to make sure that you are not flying over people when you are flying over the golf course.
You need to check your State and City drone laws before you fly, as every State has different drone laws on top of the already set FAA drone rules and regulations.
4 Uses For Drones On The Golf Course
Drones are fantastic pieces of machinery and are constantly growing as a recreational activity, but not only as a recreational activity but also as a commercial tool.
Drones being used on golf courses have many uses which many golf courses around the country have taken advantage of this useful tool. Drones on golf courses have loads of incredible uses, and some of these uses include helping to market and maintain the course.
Drones can also be used as a tool to survey a golf course to assist the owners with planning the course as well as maintaining it.
Drone Videos For Golf Courses
Golf courses are beautiful places, and it is not very easy to showcase this beauty by taking someone on a ground tour of the course.
Just like many areas with a large area and beautiful landscape, they are usually best showcased from the sky.
With drones now being able to capture high-quality video at a cheaper price, golf courses can hire marketing teams to assist in easily capturing the immense beauty of the golf course.
Drone Videography
A golf course can make fantastic videos of their golf course for a low price, professional quality drones ranging from $900 upwards.
Even if the golf course is on the smaller side, they can purchase a drone to film the course regularly across all of the seasons.
A golf course purchasing their own drone or hiring a pilot to film the course is a lot cheaper than the price they would have to pay to get a helicopter to fly over the course to film it.
Golf Course Photogrammetry Maps
Drones such as the Mavic 2 Zoom and Phantom 4 can capture photogrammetry images of the golf course in high quality for an affordable price.
The DJI Inspire 2 equipped with the Zenmuse X7 camera can capture 6K quality video but at a much higher price.
Waypoints can be set around the golf course and the drone can then follow these waypoints and fly autonomously, taking photos every 1 second in intervals.
Once this is done, specialized photogrammetry software is used to put hundreds of photos together and create a 3D map of the golf course.
This can help when the golf course is having problems such as flooding. The 3D map of the course can help the managers maintain the course and fix any issues.
Construction
The 3D maps created with photogrammetry software can be used even before the golf course even exists!
Drones can take images of the area that the golf course will be located. During the construction process, drones are very useful in planning and mapping out an area.
Interactive Drone Videos
A new trend has started to pop up recently where drone pilots are using customized drones that can move at high speeds.
These drones are now being used to follow golf balls as they are hit, all the way into the hole.
This is an awesome new way to use racing drones. The shots look amazing and are definitely something every golfer wants a copy of to share with their friends online.
This is another way golf courses can benefit from having drones on their courses instead of dismissing all drones in the area.