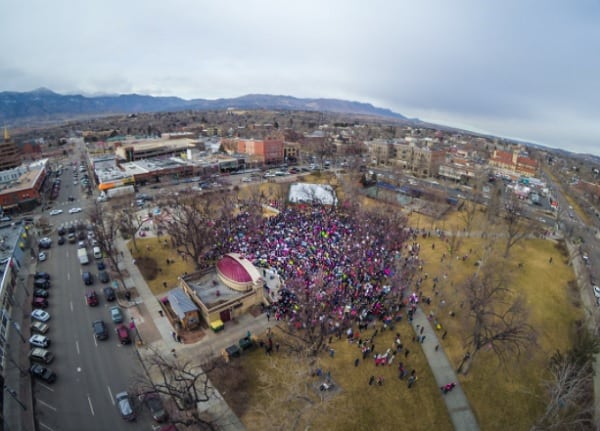 With the recent spike in protests, a lot of people would like to document these protests from the sky, but can you fly a drone over a protest?
Drone pilots may not fly a drone over protests as the FAA has specifically stated that it's illegal for a drone pilot to fly a drone over people. This law is true for both recreational and commercial drone pilots unless you've obtained a Part 107.39 waiver as a commercial drone pilot.
Keep reading to find out how you can fly over a protest legally as well as more about this specific law that prohibits it.
How To Fly a Drone Over a Group Of People Legally (Hobby drone pilot)
The FAA (Federal Aviation Administration) is in charge of controlling and regulating the Airspace above the United States and they have deemed it dangerous to fly over people using a drone.
The FAA website states that recreational pilots are prohibited from flying drones over people who are not involved with the drone flight. That said, you are allowed to fly a drone over people who are involved in the activity and have given their consent for the drone flight.
If something were to happen, they would have given you prior permission to fly over them, and you would then be free of any legal responsibility. Therefore if you are organizing the protest and everyone knows about the drone flight and is ok with the activity, then it is ok to fly over those people.
So even though it is illegal to fly over people with a drone, there are ways to get around this law and get footage of a protest and the people participating in the protest.
Can You Fly Over a Protect If You Have a Part 107 Drone License? (Commercial Drone Pilot)
As a Part 107 certified pilot, you are able to do things that regular recreational pilots are not allowed to do. Part 107 pilots have the ability to request a waiver to be able to fly over people.
This waiver is known as Part 107.39. This waiver is not the easiest waiver to obtain. However, not impossible. Only the waiver to fly a drone at night is requested more than the Part 107.39 waiver.
Once you get permission to fly a drone over people, you will able to film some pretty cool protests legally, as getting a Part 107 license allows for pilots to ignore some FAA rules and regulations temporarily!
This is a big reason why a lot of enthusiasts end up getting their Part 107 license even though they aren't going to be flying for commercial purposes.
How To Fly Around a Protest Legally as a Recreational Pilot
The first thing I think is important to note is that your first amendment right does not include flying into the national airspace. When flying a drone near a protest, all pilots need to still follow the rules set by the FAA so you avoid being unnecessarily arrested.
If you want to fly a drone at a protest you need to ensure that you are responsible for keeping everyone safe and flying responsibly.
Methods for flying your drone around a protest legally
Use The Rooftops: Planning a rooftop route when flying will allow you to film the main roads while using rooftops and alleys to fly over and, therefore, make your flight safe and legal.
Insurance: When flying in a city or in a potentially hazardous situation,  I would recommend that you get insurance for your flight. There are insurance applications that specifically deal with drone pilots and insuring their flights.
Now that you know how to make your flight safe and legal, you need to know the rules to follow! Here are some basic rules and regulations that you need to follow when flying over a protest:
Rules for flying over protest:
Do not fly in a TFR (temporary flight restriction) zone.
Do not fly directly over people.
Do not fly over moving vehicles.
Do not fly over 400 feet.
Do not carry objects with your drone during the flight.
Do not fly in a careless or reckless manner.
When flying in Controlled Airspace, you need to apply for FAA Authorization via LAANC.
Best Drones For Filming a Protest
There are many amazing drones on the market that all have different specs and capabilities.
In order to film a protest and get the best footage possible, you need a drone with a great camera, plenty of flight time, as well as plenty of range to go where you need to go.
Here are a few drones that are my top choices to use when filming a protest:
1. Mavic 2 Zoom
The Mavic 2 Zoom is the latest in powerful drones created by DJI. The Zoom is a small drone, very compact, and can be taken anywhere because it is so easy to travel with.
DJI partnered with Hasselblad cameras in order to bring you this drone equipped with a brilliant new camera that shoots in Ultra 4K and with the added 2X optical zoom lens.
I love this drone and its various features that truly make it a must-have tool for any photographer or videographer. All of its features make it one of the best camera drones ever and it has all the things that you need to capture a protest properly!
Flight Time: The Mavic 2 Zoom has a 31 minute flight time. Perfect for long protests, and with extra battery packs, you will have plenty of flight time to last you the day.
Price: It is a little pricey with a cost price of $1,599, but it is definitely worth it for this powerhouse of a drone!
2. Mavic 2 Enterprise  
All of the benefits featured above get better with the Mavic 2 enterprise. The drone is literally identical to the Mavic 2 Zoom, except the drone has accessories. 
You can send messages to protestors via a speaker, and you can also showcase that you are a safe pilot by strobing from your location.
Since DJI are a little on the fence with regards to you buying this drone, you may have to order the Enterprise Drone from a dealer. Your best bet is Multicopter Warehouse, Drone Nerds, or DJI NYC.
3. Mavic Mini
The Mavic mini is now the smallest drone produced by DJI. That makes it the perfect drone to take to a protest! The best thing about this drone is that despite its small size, DJI only made a few compromises to the drone.
The Mavic Mini is also a very affordable drone. So if you are not looking to spend a lot on a drone to film a protest with, then the Mavic Mini will still do an amazing job at less than half the price that you would usually pay.
Another thing about this drone is that it falls under the required 0.55 lbs that the FAA requires for you to register a drone. This is a super easy drone to use and even though it is really easy to use, it still has some awesome advanced features to play around with!
Design: The Mavic Mini is basically the same design as the Mavic Pro that has been adjusted to improve its portability. Even though the Mavic Mini is now the smallest drone DJI makes in the Mavic series, it does not compromise in the performance area.
Price: The Mavic Mini is also currently the cheapest drone that DJI offers, with a price tag of only $399 it is a great price for its amazing features.
Things that make this drone cool:
Even though it is small, the Mavic Mini still has a 30 minute flight time and a 2,5-mile maximum flight range, which is amazing for a drone of its size.
The Mavic Mini has a 3-axis gimbal, which is not a common thing to find in a drone of its size and price. This is an awesome feature because it will allow you to fly the drone and not worry about how the footage will look or how stable it is because the footage will always be smooth.