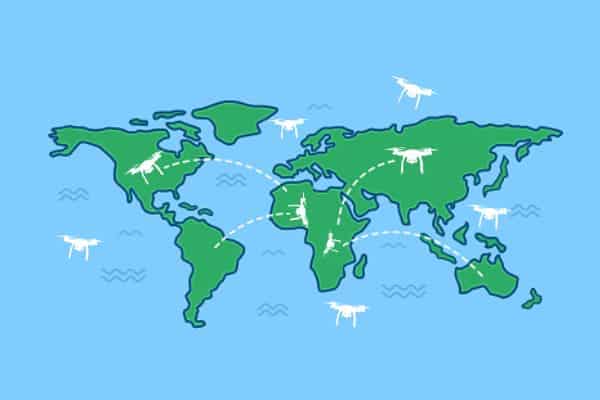 If you are a savvy traveler yet can't stand the thought of leaving your drone at home, then I'm here to share 28 countries that have banned drones.
1. Algeria
According to Algeria's national aviation authority, the Directorate of Civil Aviation and Meteorology of Algeria (DACM), drones are banned in Algeria.
If you try to enter Barbados with a drone it will be confiscated at customs. With little to no information on whether or not you will see the drone again.
2. Antarctica
Under the Antarctica Treaty, all recreational drone or UAV use is not allowed and they have a complete ban on all drone activity in the entire region.
Under the Antarctic Treaty System, the entire continent of Antarctica was named as a natural reserve, devoted to peace and science, by the International Association of Antarctica Tour Operators (IAATO).
This means that any activity that has the potential to impact the current state of the environment on the continent will be subject to strict parameters.
This is why drones are strictly banned in Antarctica.
3. Barbados
Barbados has had a temporary ban on drone use in the country until the 19th of November 2019 when the country started allowing people to apply for a permit 6 weeks before their trip into the country.
This affects all new imports into the country, regardless of the size of the drone, and this includes drones used as toys or for a hobby.
Many people found the process of applying for a permit 6 weeks before their trip difficult, tiring, and intermittent. Many people did not recommend going through the process and stating that it's "not worth it" and "not guaranteed."
On the 2nd of May 2020, the country extended the ban until October 2020. BUAVA (Barbados UAV Association) is engaging with the authorities to remove the ban.
4. Bhutan
Drones must be approved before you are allowed to fly them in Bhutan, and this approval must come from the Bhutan Civil Aviation Authority (BCAA) at Paro International Airport.
However, this approval is granted only to governmental organizations so as a traveler you are not permitted to use a drone.
So put simply, please do not, and I repeat do NOT, attempt to enter Bhutan with a drone because it will be confiscated by customs when you land!
5. Brunei
Currently, there is no law in Brunei that deals with the handling of multi-copters. Therefore, the competent authority has prohibited all applications of drones until a legal framework is passed.
Therefore, you can consider drones as being banned in Brunei, and if you arrive with a drone it will be confiscated at customs.
6. Cuba
According to Cuba's national aviation authority, the Civil Aviation Institute of Cuba (IACC), drone operation is banned in Cuba. 
If you try to enter the country with a drone then it will be confiscated at the airport by customs.
7. Côte d'Ivoire
According to Cote d'Ivoire's national aviation authority, the National Authority of Civil Aviation (ANAC), drones operation is banned in Cote d'Ivoire.
If you attempt to enter the country with a drone it will be confiscated by customs and risk not seeing it again.
8. Egypt
Drone operation in Egypt is technically legal but you have to get permission to fly from the Egyptian Civil Aviation Authority.
However, according to my research, this has proven to be almost impossible to get if you are a foreigner.
9. India
Drone laws in India require you to apply for a permit in order to operate your drone which has proven to be a problem for many foreign travelers like you and me.
Many are told to declare their drones and the drones end up confiscated and they never get them back.
Commercial drone flying in India requires a foreigner to lease the drone to an Indian national who will obtain a Unique Identification Number (UIN).
For more information about this process visit the DGCA website (Directorate General of Civil Aviation).
10. Iran
According to the CAOI(Civil Aviation Organization of Iran), drones have been banned in Iran.
There is a popular story of an Australian couple, who while traveling the world as travel bloggers, found themselves detained in Iran after flying their drone.
Many people have also had their drones confiscated at customs when entering the country.
Visit the CAOI website for more information on this.
11. Iraq
According to the Iraq Civil Aviation Authority (ICAA), drone use in the country is not allowed.
Your drone will be confiscated by authorities at customs when entering the country.
12. Kenya
In 2019 the Kenya Civil Aviation Authority (KCAA) produced a draft set of regulations for Unmanned Aerial Vehicles and were reportedly lifting the ban on drones within the country.
Drone use in the country requires you to have a permit before flying the drone which you have to obtain before visiting the country.
This permit, like in the other countries we have discussed, is very hard to obtain. It is not impossible, but according to some, it is not worth trying to cut through the red tape.
13. Kuwait
According to Kuwait's Directorate General of Civil Aviation (DGCA), which is Kuwait's national aviation authority, drones have been banned from being flown in the country.
Customs will confiscate your drone if you try to enter the country with one.
14. Kyrgyzstan
Drones are banned in Kyrgyzstan according to Kyrgyzstan's national aviation authority, the Civil Aviation Authority of Kyrgyzstan (CAA).
I suggest that you don't try to bring a drone as it will be confiscated by customs upon entry into the country.
15. Madagascar
According to Madagascar's national aviation authority, the Civilian Aviation Directorate of Madagascar (CAD), Drones are banned for personal use since Marched 2015 and will confiscate them when you enter the country.
You can try to apply for permission from CAD to fly a drone in the country but prepare yourself for a battle!
16. Morocco
Morocco is an amazing country with awesome scenes and beautiful desert landscapes, but unfortunately, you can't film any of this with a drone.
Morocco has banned drones and customs will confiscate them if you try to bring one into the country.
17. Nicaragua
Nicaragua has a complete ban on drones and people who have tried to enter the country with drones have had their drones confiscated.
18. North Korea
North Korea has no official drone laws, however, it's still not safe to assume that drones will be OK to bring into the country.
Usually, when there is a lack of drone laws, it means that the countries' authorities will be opposed to the use of drones.
Some customs officials choose to confiscate drones, while some officials won't confiscate them. So, essentially it is a roll of the dice!
I don't recommend bringing a drone to the country, as it is a huge risk and not worth taking the risk especially with North Korea's history with foreigners.
19. Oman
You are actually allowed to fly a drone in Oman but only if you are flying for commercial purposes.
For any commercial flights, you have to have a permit which you need to apply for and get before entering Oman.
Drone flight for recreational use is banned.
20. Saudi Arabia
Saudi Arabia has strict no drone laws in the country. The Saudi Arabia General Authority for Aviation (GACA) website, however, has a UAS registration button that will take you to a registration page.
Abdulhakim Al-Badr, Deputy to GACA's President for Safety and Air Transport, has said that drones of any type or size within the Kingdom's airspace are banned.
This leads me to believe that the UAS registration is for nationals only, but hopefully, this will be opened up to foreigners visiting as well.
21. Senegal
Senegal has a strict drone ban and you risk having it confiscated on arrival at the airport or border by authorities if you try to bring a drone into the country.
22. Sri Lanka
Back in the Easter of 2019, the country of Sri Lanka had bombings, and after that drones were banned, understandably.
Fast forward to 2020 and you can apply for permission to fly a drone in the country but you have to cut a lot of red tapes and jump through a lot of hoops if you want to be able to fly your drone.
On top of the hassle of trying to apply, you have to pay a fee as well.
After taking all this into consideration I suggest leaving the drone at home when visiting Sri Lanka.
23. Syria
Drones are banned in Syria and you won't even make it past customs or border security with a drone before having it confiscated.
It's a straight-up no for this one!
24. Tunisia
There are no formal laws stating whether or not it is legal or illegal to fly a drone in Tunisia.
This, however, doesn't mean that you have the freedom to do what you like with a drone.
Again, like any country that doesn't have clear laws on something, authorities will do what they see fit to keep the peace which might mean you losing your drone to customs.
25. Uzbekistan
I highly recommend not trying to bring a drone into Uzbekistan. Why?
Mainly because Uzbekistan has banned drones and importing or operating one could land you with a jail sentence in the country.
26. Bahrain
Laws are in place that clearly prohibits the use of drones in the country. 
According to the Kingdom of Bahrain Ministry of Interior Customs Affairs, any electronic wireless aircraft which, unfortunately, includes drones and other model aircraft, are prohibited.
If you are found with a drone at customs it will be confiscated.
27. France
Flying a drone in France is legal, however, I have put it on this list because the drone rules and regulations in the country are very strict and even though it would be an amazing place to fly a drone, it might be better to leave the drone at home when visiting.
If you really want to bring a drone to the country and fly it, I suggest contacting contact the French Civil Aviation Authority directly before you travel with any questions you might have.
28. Austria
Austria, like France, does not have a drone ban but a permit from Austro Control is required if the drone is flown above 98 feet in Austria.
Your drone also can't have more than 79 Joule kinetic energy without being registered as well.
These laws are awfully strict for hobby flying.
Drone Bans, Why do They Exist?
Drones are amazing pieces of machinery and so useful when they are added into different industries to assist or for regular consumers when visiting new places.
Drones are basically flying cameras, so when you travel all you want to do is take pictures of the place you are visiting and your family.
If you have a drone I'm sure you would not even dream of traveling anywhere without bringing it along with you. But there is a slight issue with drones.
Drones can be a safety hazard, and that means a lot of places that you might want to visit or that are big tourist destinations might not permit drones.
Why Drones Are Banned in Certain Countries?
The truth is even though drones are great and don't seem to be dangerous, drones can actually be very dangerous if they are put in the hands of the wrong person, as with anything in life.
After all, they are essentially just flying devices that have cameras attached to them. This alone can pose some serious security and privacy issues. Anyone with bad intentions that seeks to cause harm to other people can use a drone to spy on people and government buildings.
People can use drones to harm other people, considering that they can be used as devices to carry bombs or lethal toxins to crowded areas, they are also a danger when they are brought on flights.
It is a little worrying that anyone with a couple of hundred dollars or even less can just buy a drone and use it to either harm other people or spy on them from a distance. This is the main reason why many countries around the world have had drones banned.
Another reason why many countries have drones banned is that not many of their citizens are able to afford them and thus they haven't come up with a strict set of rules and regulations for drones.
This is why many countries have had drone bans in the past but in the last couple of years, they have lifted the bans due to being able to formulate a strict list of rules and regulations for drone pilots to follow.
Best Drones to Travel With
| | | | | | |
| --- | --- | --- | --- | --- | --- |
| Drone Name: | Camera Quality: | Flight Time: | Range: | Price: | Purchase Link: |
| Mavic Air 2 | 4K | 34 min | 11.49 miles | $899 | VIEW |
| GoPro Karma | 4K | 20 min | 0.62 miles | $1,099 | VIEW |
| Parrot Anafi | 4K | 26 min | 2.4 miles | $780 | VIEW |
| Mavic Mini | 2.7K | 30 min | 2.5 miles | $399 | VIEW |
Table listing the best drones to travel with.
DJI Mavic Air
The DJI Mavic air is a brilliant drone to travel with as it is nice and light so it will not have a huge effect on the weight of your luggage. It is also very small and compact so it will fit into your carry on luggage without a hassle. While it may be a small drone it still has a 20 minute flight time while still being able to shoot in 4k goodness.
The Mavic Air is perfect for beginners that are looking for a good drone but also want something that is affordable. The drone also has obstacle avoidance which is great for beginners as well.
Design: The Mavic Air is ultra-portable and foldable, featuring high-end performance and functionality. The 3-directional environmental sensing tech in the drone makes it safer to fly as well.
Gimbal: It also features a 3-axis mechanical gimbal to help stabilize the amazing 4K video without the need for you to worry if the footage will be shaky because of the way you might be flying.
Flight time: Even though the DJI Mavic Air is a small drone it still gives you 21 minutes of flight time, meaning you will have plenty of time in the air to enjoy every feature this drone has.
Price: The Mavic Air costs around $599 but this price might change with the release of the Mavic Air 2.
This drone really delivers when it comes to what it is capable of but still affordable for the average consumer. Being affordable and still having such high quality is a huge bonus!
GoPro Karma
 The GoPro Karma is a very nice drone to travel with as it is nice and compact which makes for easy storage.
The Karma is missing a few things when you compare it with other drones because it is clearly obvious that GoPro is essentially a camera company that made a drone.
But it is fantastic because of that very reason. the drone acts as an accessory to the GoPro camera and allows for the quality of the camera to shine.
Another great thing about this drone is that it was designed to carry and be used with the GoPro cameras, so as the cameras improve, all you have to do is get the latest one and make the switch.
Camera Quality: The latest camera from GoPro is the GoPro Hero 7 and it shoots in 4K.
Cool Feature: The drone has one amazing feature that makes it really useful for travel.
You can take the GoPro camera off the drone and put it on the stabilizer and now you are able to take awesome videos while you enjoy yourself in the country you are visiting.
Another thing that is appealing is that even if drones are banned in the country you are going to, you can still detach and use the camera to take actions shots and pictures around the city.
Parrot Anafi
This lightweight, bug-like drone might be small, but its photography capabilities are among the best in the drone game.
Camera Quality: The drone shoots an amazing 4k UHD video at 60 fps(frames per second).
Its camera has 180 degrees of vertical range, which enables it to take photos directly upwards. This is a feature not many drones have.
It has a really cool follow-me mode that is amazing for families that are traveling and looking to take selfies.
Price: The Anafi will cost you around $850 to purchase, which is a really good price for a drone with its capabilities.
Mavic Mini
In November 2019 they released the Mavic Mini. Some say this was DJIs answer to the new drone laws released by both the US and the UK.
Weight: Probably their most consumer-friendly drone and weighing less than 0.55 lbs, meaning that it doesn't have to be registered with the FAA before you fly it.
The fact that it weighs next to nothing also means that it won't affect the weight of your luggage too much either, which makes it great to take with you on trips overseas where weight is a major issue.
The drone is also very small and compact making it easy to fold and travel with, so you can easily put it in your carry-on luggage without any issues.
The best thing about this drone is that DJI only made a few compromises to the drone in order to achieve this size.
Design: The Mavic mini has specifically designed it to increase the drone's portability while at the same time still maintaining all the capabilities of previous Mavic drones.
Even though the Mavic Mini is smaller in size compared to its counterparts in the Mavic series, it does not compromise in the performance area.
Price: The Mavic Mini is the cheapest drone that DJI offers. Being only $399, it is a great price for its amazing features.
The Mavic Mini, even though it is small, still has a 30 minute flight time and a 2,5-mile maximum range which is perfect for taking on trips.
Cool Features: The Mavic Mini has a 3-axis gimbal which is not a common thing to find in a drone of its size and price.
This is a great feature that allows pilots to focus on the scenery and footage without worrying about shaky footage.
This is also great for new pilots who want to take a drone on their next trip!
What Happens If You Get Caught?
You might be wondering what will happen to you if you are flying your drone illegally in a foreign country that you are visiting?
Well, this is a complicated question to answer as every country has its own sets of rules and regulations when it comes to drones, as well as their own ways to deal with people that violate these laws.
If while flying the drone, you entered an area like a NO Fly Zone, and the authorities of that place believe that you flew the drone there was by accident of some kind, the drone will be confiscated and turned over to the appropriate authorities to handle the situation.
If the drone has been flown in an area that it was not supposed to be in, then depending on the authorities of that country, you could either have the drone confiscated or you could be arrested and fined.
So if the countries you will be visiting do not allow the flying of drones, it is essentially useless to bring a drone with you on your trip.
The drone might be confiscated at the airport and even if you do get through airport security, you will not be able to fly the drone anywhere as it is illegal after all.
So, if you are not allowed to fly a drone in the country you are planning on visiting, then it is not worth bringing the drone along with you.
Mainly because if you are caught flying a drone you might either face legal trouble or lose your drone forever which is not worth it.
Taking a Drone on a Plane
Just thinking about all the things you can do with a drone makes it impossible to think about not bringing it on your next trip.
The issue is if you are allowed to bring a drone and fly it in that country or not. But let us just say the country you are visiting does allow drones, you still need to be able to get it through airport security without causing any issues.
Before you pack your drone in your suitcase ready for your next adventure, you need to consider a few things.
Mainly, you need to consider whether or not your drone is compliant with TSA requirements, FAA hazardous material regulations, airline policies, and the drone laws from the place you are departing from and the place you will arrive at.
Guide to Bringing a Drone on a Plane
In this guide, I will be walking you through the various things to consider when packing your drone to be able to legally and safely take your drone on a plane.
You need to follow these steps for both packing a drone in your carry on luggage or your checked-in luggage:
Case. The first thing is that it is recommended that you get yourself a proper drone case that is designed to carry your specific drone.
You can buy a drone case from the company that makes your drone or you can purchase one from Amazon.
The reason why this is recommended is that, as I am sure you know, if you have traveled before, airlines aren't very delicate with passenger luggage when putting it on the plane.
So, when you have your drone in a case then it will protect the drone from damage.
Disable Drone. You need to make sure that the drone is properly switched off before you pack it.
You also need to make sure that all the switches are protected and are not able to be activated accidentally.
This is another reason why having a case is important as the drone won't move around in the case or the controller and no buttons will be pressed while in transit.
Unfortunately, I can't tell you if your drone should be packed in your hand luggage or your carry on luggage as that will mainly depend on the specific airline you are traveling with.
The airline's website should have a set of rules for bringing various items on the plane and that requires you to do some research before you travel on whether or not the airline requires the drone to be in your carry-on luggage or checked baggage.
Some airlines specifically only allow drones to be transported in carry-on luggage only because of the Department of Transports ban on transporting lithium-ion batteries in plane cargo compartments.