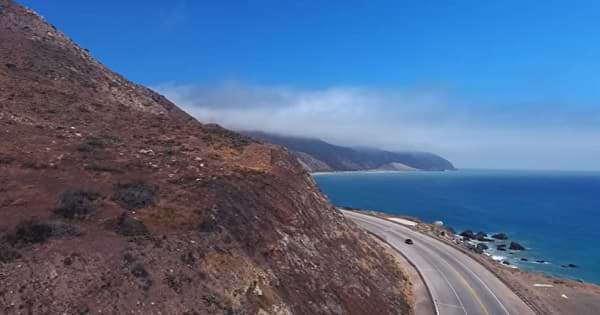 If you're planning a trip to California anytime soon to fish with your drone, you'll definitely want to know the legalities around this. Well, I've done my research and here's exactly what you need to know.
There is currently no legislature in the Fish and Game Code or California Code of Regulations regarding the prohibition of drone usage for fishing. However, you do need to comply with the California drone laws in place, which include registering your drone with the FAA and avoiding flying in restricted areas.
Well, that's good news! But keep reading to find out exactly how to register your drone and where you are permitted to fly it when you go on that fishing trip.
How To Register Your Drone In California
If you are a hobbyist wanting to use your drone for fishing in California or any other state, you will need to register your drone with the FAA (Federal Aviation Administration).
If your drone weighs more than 0.55 lbs (250g) and less than 55 lbs (25kg) then you need to register your drone with the FAA by clicking here. It only costs $5 and you can do this easily online. This won't take you longer than a few minutes are you will be good to go almost immediately!
If you are considering skipping this step, you may want to think again. You can face a fine of up to $250,000 if you don't register your drone! So, take 5 minutes and $5 out of your day, and your pocket will thank you for it!
IMPORTANT NOTE: If your drone weighs less than 0.55 lbs (250g) then you can skip this step. You don't need to register it with the FAA. However, you still need to follow California's state and local drone laws when going fishing, so bear that in mind.
As a drone hobbyist you are required to follow the rules stated by the FAA, which are known as the Special Rules for Model Aircraft:
You may only fly your drone for recreational purposes.
You may not fly your drone any higher than 400 feet if you are flying it in uncontrolled airspace.
Your drone must be in your line of sight at all times.
You may not operate your drone at night.
Do not fly your drone over other people or anywhere it could endanger them.
State Drone Laws In California
Now that your drone is registered, let's take a look at 3 important state drone laws according to the California Department of Transportation and the California General Assembly.
Law 01. Immunity For Those Who Damage UAS For Interference Of Emergency Services
This law gives legal immunity to those who are first responder to an emergency and accidentally damage your drone in the process of providing the emergency service.
This law is named SB 807 // 2016.
Law 02. You May Not Interfere With Activities Of Emergency Responders
Similar to the first law mentioned above, you may not use your drone to interfere with first responders who are dealing with an emergency situation.
This law is named AB 1680 // 2016.
Law 03. You May Not Take Aerial Images Of Private Property
This law prohibits the use of drones to take pictures or recordings of people in their private properties engaging in personal activities. This law was created as a response to photographers invading celebrities and their personal spaces.
This law is named AB 856 // 2015.
There is, however, one additional law pertaining to the use of drones in State Park wilderness areas that you will definitely want to take note of, especially if you plan on fishing there.
Important California State Park Regulations
01. California Department of Parks & Regulations
This regulation prohibits the use of drones within State Park wilderness areas, cultural preserves as well as nature preserves. With this being said, it is vital that you first check the rules of each park respectively, as they may have their own specific set of regulations.
This law is named California Department of Parks & Regulations (Cal. Code Regs. title. 14, § 4351) // 2015
02. No Person May Launch, Land Or Operate A UAS Within Certain Park Units
This law is applicable to any park unit in the Orange Coast District, including various popular fishing locations such as Huntington State Beach, Crystal Cove State Park and San Clemente State Beach.
This law is named PO 925-19-32 // 2019.
Keep reading to find out about some of the best fishing spots in California where you can happily fly your drone!
5 Best Fishing Spots In California That Allow Drones
So now that you are aware of the general drone laws in California, let's dive into some of the best fishing spots where you can legally use your drone to catch some fish!
The Delta
The best part about this location is that it is completely legal to use your drone to fish and it is an absolute paradise for anglers!
There is an abundance of fishing holes available for you to fish where you can relax and enjoy your fishing.
The Delta boasts some amazing fishing spots, so here are some of the top hotspots:
Antioch Pier
Pittsburg Marina
New Anchor Marina
The River Ryde
Discovery Park
Park Delta Bay
Tiscornia Park
Bodega Bay
This spot is perfectly legal to fly your drone, and is one of the best fishing locations in California! Located in Sonoma County, you will find a plethora of secluded coves and beaches with an abundance of beautiful fish.
Just be aware that if you are planning on fishing offshore you will need to have your license with you if you are over the age of 16.
IMPORTANT NOTE: It is certainly a good idea to download the BE4UFLY mobile application before flying your drone anywhere. The FAA has partnered with Kittyhawk to develop an app that lets recreational drone users know where it is safe to fly their drone, wherever they are. Pretty cool, right?
Clear State Park
This extremely popular park is located in Kelseyville, Lake County. It has been rated the top bass fishing location in the nation, as well as being the largest fresh water lake in California.
Just take note that you cannot fish at the boat launching areas, nor can you fish in the swimming areas as this could interfere with swimmers.
Castaic Lake
For any bass fish lovers, Castaic Lake is one one of the best hotspots for trophy hunters.
To add to this, they also host fishing tournaments so long as you have the relevant permits.
If you would like to find out more, you can take a look at their website for all the activities they offer as well as the rules and regulations.
The Russian River
The Russian River runs through Northern California's hills, and you will definitely get some good bites in the area. The best part is that it is so secluded and there is so much space to fly your drone and use it to your advantage!
If you would like to find out more about what this beautiful location has to offer, check it out here.
IMPORTANT NOTE: It is always a good idea to first check with the California Department of Parks & Recreation before flying your drone in the area, just to be on the safe side. It is commonly acknowledged that some drone laws are a little fuzzy when it comes to state parks, so it is always in your best interests to check.
Related Questions
Can I fly my drone at Santa Monica Pier?
Unfortunately, using your drone for any purpose, whether it be fishing or other, is strictly banned from this area. Drone use has recently become an issue, due to the growing number of people operating drones for recreational purposes.