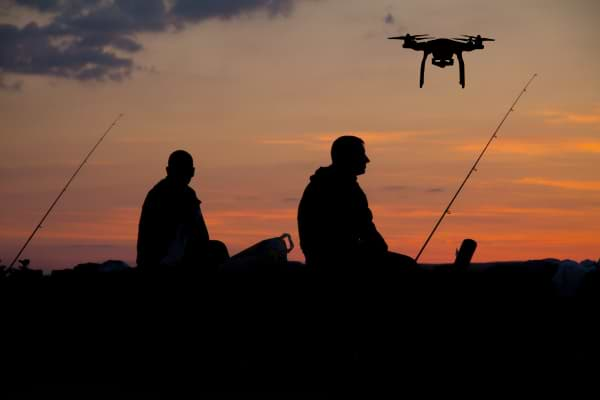 Drone fishing is becoming quite popular these days, and most anglers have started taking it up. But, is it legal in the state of Texas?
According to the International Game Fish Association (IGFA), it is unlawful to use a drone to assist in pulling in a fish once it has been hooked, however, it's legal to use a drone to cast your fishing line and as a fish spotter.
Keep reading this article to find out more about drone fishing as well as the best spots for fishing in Texas!
Texas Drone Rules and Regulations
Some say that the drone laws in Texas are stricter than the gun laws in Texas, and it looks like that is true! In order to keep yourself out of trouble, it's probably best to educate yourself on these laws.
Here are some of the regular FAA drone rules and regulations you need to follow:
You need to register a drone if it weighs between 0.55 lbs and 55 lbs.
You may not fly a drone that exceeds 55 lbs.
You cannot fly a drone over people.
Flying above 400 feet is not allowed.
You must keep a drone within your line-of-sight.
A drone's speed may not exceed 100 mph.
The drone laws within Texas state lines limit how, where, and when you can use a drone. As a drone pilot, you need to be very careful with how you use a drone. Pilots are only allowed to take pictures and videos on private property if the owner and the people on that property have given you consent to do so.
If you happen to violate this law, then the Texas State Government could hand you a fine that ranges from $5000 to $10,000 if you are caught capturing and sharing images taken without the consent of people.
The Texas Government set up these rules to protect its citizens from unwanted surveillance from drones. However, there is a way around this law that allows people to be able to capture images using a drone freely.
Images used for research, whether that research is professional or academic, are acceptable. Texas is actually one of the only States that has put a restriction on the use of drones to take pictures and videos which is actually the main purpose of a drone! Crazy, right?
Here are some of the other rules and regulations you should pay attention to when thinking of flying a drone in Texas:
Critical Infrastructure. The Texas Government has declared certain buildings as critical infrastructure. These are buildings that are essential to the security of the nation. You are not permitted to fly over or near these buildings and structures with a drone.
Airports. Naturally, drones are not permitted to fly within a 5-mile radius of ANY airport.
Law Enforcement. The many States in the United States have come up with drone laws limiting the use of drones by law enforcement in order to maintain the privacy of their citizens.
For example, law enforcement is only allowed to use their drones in certain ways and only under certain circumstances. They are not permitted to use a drone anyway they see fit.
State Parks. You are not allowed to fly a drone near or within state parks.
International Game Fish Association
The International Game Fish Association is the leading authority on angling. Fishermen who fish for sport, have to be very careful and follow the rules set by this organization. This organization was created in 1940 in order to set the code of conduct for fishing.
Sort of how the FAA sets the rules and regulations for drone pilots, the International Game Fish Association sets the rules and regulations for anglers.
This Organization is the one that evaluates each and every new method that is introduced to fishing to determine if the method is ethical or unethical. The International Game Fish Association, when reviewing the use of drones for fishing, deemed it as not unethical.
However, each State has the final call whether it is legally accepted or not.
3 Best Drone Fishing Locations in Texas
Lake Houston
Lake Houston is a reservoir fed by the San Jacinto River and it is located 15 miles from downtown Houston.
Fishing, boating, and camping are popular recreational activities that people take part in at the lake.
Drone pilots have recently started flocking to this location over the years in order to capture its amazing natural beauty of the lake and the wildlife that surrounds the lake.
This is an amazing space for drone anglers to explore as it is home to many different species of fish and is a prime location for the two worlds of fishing and droning to collide.
Predominant Fish Species:
Largemouth bass
White bass
White crappie
Blue catfish
Bluegill
One thing that is important to note about this location is that you need to be careful where you are flying, as a section of the lake falls under controlled airspace.
For Example:
The western bank of the lake sits on the edge of Houston in Class B airspace. Flying near here will require you to be extra vigilant and make sure you do not break any laws.
Galveston Bay
Galveston Bay is a bay that is located in the western Gulf of Mexico along the upper coast of Texas. It is the seventh-largest estuary in the United States of America, as well as the largest of the major estuaries that are along the Texas Gulf Coast.
It is arguably one of the best fishing spots in all of Texas. Redfish and trout are definitely the main stars when fishing in this location, but there are many other fish species that anglers tend to catch in this location.
Some anglers have had an odd run-in with a shark or two that have made their way into the Gulf!
Fish You Could Catch:
Speckled Trout
Flounder
Redfish
Sheepshead
Black drum
Catfish
Bolivar Texas
The Bolivar Peninsula is a census-designated place in Galveston County, Texas. The best place to fish in this location is at Crystal Beach, fishing here is amazing.
Crystal beach is also host to a handful of Marinas that carry live and dead bait, as well as ice, drinks tackle, and always have a recent fishing report.
This area is also uncontrolled airspace which makes it great fro drone fishing!
What Are The Best Ways To Use a Drone To Fish?
Drone fishing is the technique of using a drone to catch fish. There are generally three drone fishing methods used.
Firstly you can use a drone as a sort of fish finder to find fish in the water using the camera of the drone.
You can use the drone to carry your fishing line far from your location as another form of casting your line.
You can use the drone as a fishing rod to pull the fish straight to you.
In order to make this possible, you need to attach a rig to your drone that will allow you to drop your fishing line. The drone makes casting a thing of the past as the drone does all the work by pulling the line past any physical limitation points.
The drone also allows you to look for fish using the camera which was impossible before. In the past, you would have to cast your fishing line in an area and just wait and hope that you eventually got a bite!
Final Thoughts
With so many beautiful spots to fish in Texas, it's well-worth taking note of the drone rules and regulations so that you can enjoy this experience without running into any trouble!