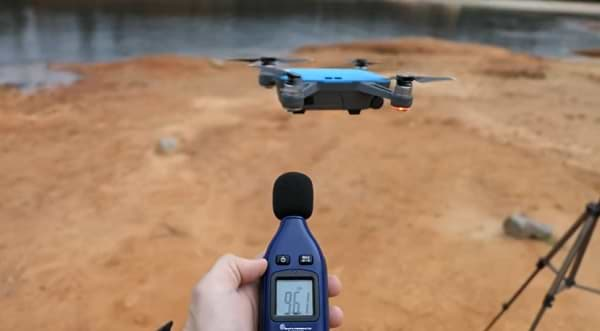 My neighbors have complained once or twice about my "noisy" drone, and I can't really blame them because it is quite noisy! I did some research so you can find the quietest drone, and avoid those complaining neighbors.
| | | | | | | |
| --- | --- | --- | --- | --- | --- | --- |
| | Drone Name: | Decibel Level: | Flight Time: | Range: | Price: | Purchase Link: |
| 01. | Funksy 913 | 68 dB | 16 min | 984 ft | $125.99 | VIEW |
| 02. | DJI Mavic Pro Platinum | 60 dB | 23 min | 4.1 miles | $1,099 | VIEW |
| 03. | DJI Mavic 2 | 72 dB | 31 min | 5 miles | $1,199 | VIEW |
| 04. | MJX B3 Bugs 3 | 74 dB | 15 min | 984 ft | $115 | VIEW |
| 05. | Mavic Air 2 | 76 dB | 34 min | 11.49 miles | $800 | VIEW |
| 06. | Phantom 4 Pro V2.0 | 80 dB | 28 min | 4.3 miles | $1,599 | VIEW |
| 07. | Mavic Mini | 64 dB | 30 min | 2.4 miles | $399 | VIEW |
| 08. | DJI Spark | 55 dB | 16 min | 1,24 miles | $540 | VIEW |
| 09. | Parrot Mambo | 75 dB | 8 min | 330 ft | $100 | VIEW |
| 10. | Autel Evo | 68 dB | 30 min | 4.3 miles | $1000 | VIEW |
Table showing the quietest drones.
Keep reading for more information on each of these quiet drones and what makes them so unique!
01. Funksy 913
The Funksy 913 is super silent and with its really low price, it really is worth buying! The drone is a great hobby/beginner drone for anyone who has a low budget.
Price: The drone will cost you around $125 which is one of the best choices you can make if you are just starting out.
Camera: The Funksy comes with a 1080p camera that allows for some decent footage. Unfortunately, the footage can be a little shaky as the drone doesn't have a gimbal for stabilizing images and videos.
Flight Time: For this price, you get 16 minutes of flight time, which is insane considering most drones at the same price can't make it over 10 minutes of flight!
02. DJI Mavic Pro Platiunum
The Mavic Pro Platinum is one of the best drones that you will find on today's market. The drone is small and compact and perfect to take along on your travels. DJI also promises that the drone is 60% quieter than its other Mavic models.
At 60 decibels its isn't necessarily entirely silent, but the Mavic Pro Platinum is as silent as a drone can get, compared to the 80 decibels of the original Mavic Pro.
There isn't a real change in the rotors, but the volume reduction is mostly due to pitch.
Flight Time: The Pro has a decent flight time of 23 minutes, which is great for a quadcopter but pretty low considering that it is a DJI drone.
Range: The drone is able to travel a distance of 4.1 miles before disconnecting from the controller.
Camera: The Pro has a 4K camera that allows for magnificent footage.
The drone has brushless motors that will run faster and are quieter than normal motors.
If you want to compare the DJI drones, the Mavic Pro Platinum is better than the DJI Phantom 4 in quietness.
03. DJI Mavic 2 Pro/Zoom
In August 2018 DJI released the highly anticipated Mavic 2 Pro and Zoom. These two powerhouses are some of the best drones you can buy right now. If you are truly passionate about photography and videography then you won't look any further.
These two drones are the peak of DJI's foldable drone range and it doesn't really get better than this. The original Mavic Pro was an amazing drone as well but the Mavic 2 Pro has all new features that blow the old Pro out of the water.
One of the new features of this drone is the multi-directional obstacle avoidance, which makes flying the drone a lot easier and safer for the pilot. It means that you worry less about flying straight and get to focus more on the photography side of things.
This improved feature also allows the drone to have another feature, Activetrack/follow-me mode, which makes the drone follow the pilot without the need for control.
Camera: Both the Pro and the Zoom are fitted with a 1-inch camera sensor that allows for 4K video capture at 100Mbps.
This is a top of the line camera was made in partnership with Hasselblad. This new tech allows the pilot to control the aperture while flying the drone in real-time.
The new OcuSync 2.0 allows for the drone to transmit 1080p live stream video straight to the phone that the controller will be linked to. This makes it easy to fly the drone when it isn't even in the line of sight, which is not legal, but if you do tend to stray, then it is a lot safer to fly!
Flight Time: With a flight time of 31 minutes, you will have amazing experiences with this drone.
Range: Taking the distance, you can fly a drone to a total of 5 miles is crazy.
Price. The Mavic 2 will cost you around $1,599, which is worth it for this quality.
04. MJX B3 Bugs 3
Also known as the Force F100 is one of the best drones in the hobby/beginner drone category. The drone is equipped with brushless motors, which is amazing for a drone of its price range.
The brushless motors also make the drone quieter than it would be without them, with a decibel level of 74, this is why it makes it onto this list.
Camera: The Bugs 3 comes with a 1080p action camera which is decent since it costs less than $200, but the drone is customizable.
You are able to change out the 1080p camera and fit it with any GoPro which raises this drones appeal by a lot.
Price: The F100 comes at a cost price of $115, which is great for the quality quadcopter you receive.
Range: Unfortunately the drone can only travel a distance of 984 feet away from the controller which isn't bad for its category, but it is on the lower side of this list.
Flight Time: With a 15 min flight time, you will certainly have fun flying this drone, and have enough time for some fantastic action shots.
05. Mavic Air 2
The DJI Mavic Air 2 incorporates the best features of the Mavic series of drones into a tiny frame. This makes it a great photography and videography drone while still being the perfect drone for you to take on your next trip.
The drone is also very good for beginner pilots, with great obstacle avoidance. The drone isn't the quietest drone on the market with a decibel level of 76, but this is still very quiet compared to other quadcopters.
If you are looking for a very good drone to buy, but have a limited budget and can't afford a drone as pricey as the Mavic 2 Pro, then this is the next best thing.
Price: The drone will cost you around $800, which is honestly a steal for a drone of its caliber!
Flight time: Even though the DJI Mavic Air is a small drone it still gives you 34 minutes of solid flight time. This is more than any other drone on this list and in its category!
Range: The drone gives you 11.4 miles of amazing scenery to capture, which is an insane distance to travel with a drone.
Design: The Air is light, foldable, and portable, which makes it very practical for many enthusiasts. It also has 3-directional environmental sensing tech to assist with the obstacle avoidance, making it safer to fly as well.
Camera: It also features a 3-axis mechanical gimbal to help stabilize the fantastic 4K video.
And with the amazing flight time and range, you will definitely have enough time and space to utilize it.
This drone delivers with its unprecedented capabilities and features. It has all this potential but is still affordable for the average consumer.
06. Phantom 4 Pro V2.0
The Phantom series of drones have been pioneers in the drone community for the longest time, and have been a revolutionary product. It was one of the first drones to feature a gimbal-stabilized camera. The earlier versions of the drone have slowly been discontinued.
Until they finally discontinued the Phantom 4. However, many drone enthusiasts bothered DJI enough for them to finally cave and bring the Phantom series back with the new Phantom 4 Pro V2.0.
It is quieter than most quadcopters, with a 80 decibel level, but sadly it is the noisest drone on this list.
Camera: The Phantom 4 allows enthusiasts to utilize a fantastic 4K camera and has an OcuSync radio system that makes 1080p video possible on your mobile screen.
Flight Time: 30 minutes of flight time to explore and shoot fantastic footage.
Price: You can purchase this drone for $1,599 on the DJI website.
07. Mavic Mini
If you are in the market for a mini drone, then you should probably stop looking because the Mavic mini has everything you are looking for. It doesn't matter if you are a long-time hobbyist or a beginner, the Mavic Mini is the perfect small drone for anyone.
When thinking of the Mavic Mini, you basically need to think of the Mavic Pro, just a lot smaller. DJI leaned into the portability appeal with the Mini, but this doesn't mean that they compromised on the performance of the drone.
The drone is one of the quietest drones on this list with a decibel level of only 64.
Weight: The Mavic mini is truly special, being the first drone that DJI has made that doesn't need to be registered with the FAA. The drone was designed to weigh only 249 grams, just 1 gram short of the 250 grams required to register a drone.
DJI really came to the rescue of many new pilots who want a really good drone but do not want to start the registration process.
Flight time: You might think that the Mini has a low flight time because of its low weight, but the low weight helps to allow you to enjoy a long flight time of up to 30min.
Range: This drone has the furthest range achieved by a mini drone, with a range of 2.4 miles.
Camera quality: The drone comes with a 2.7K camera that sits on a 3-axis gimbal. The Mavic Mini is also capable of recording HD video.
The gimbal helps the pilot to not worry about how they are flying while they film, and instead on capturing fantastic footage.
Price: With a price of $399 it's definitely worth every single dollar.
08. DJI Spark
The DJI Spark used to be known as the best mini drone on the market until DJI released the Mavic Mini. It is a very small and portable drone and is probably one of the quietest quadcopters you will ever find on the market.
When flown outdoors it is quieter than most other drones due to DJI modifying the ​propeller blades, in order to minimize the air resistance on the props.
The small size makes this drone great to travel with!
Flight time: It might be small, but this drone has quite a lot of power which allows for a full 15 minutes of flight time..
Gimbal: The drone also has a mechanical 2-axis gimbal camera helping to stabilize all your amazing video footage.
Camera: The drone has a 2.7K camera, which, when paired with the gimbal, allows for smooth and clear footage.
Design: The Spark was designed to be a fun little mini drone to be enjoyed by both beginner drone pilots and experienced pilots who want quality and portability.
It is an amazing drone that is just bigger than your average smartphone but still able to fit in your pocket, making it one of my top choices.
Price: The Spark was released in 2014 but it is still a brilliant drone, that plus its small size makes the cost price only around $350 in 2020, 
This is a high starting point for anyone new to drone photography. The drone's quietness means that you can fly in your backyard and have no issues with neighbors.
09. Parrot Mambo
The Parrot Mambo is a small mini drone that really is amazing for its size and price.
The Parrot Mambo also lets you control it from your smartphone which comes in handy when you don't want to use the controller or the batteries have died. The drone also has some cool features including an Autopilot feature, which is great for a drone of its price range.
One of the only problems I have with this drone is that it doesn't fly very well in any kind of wind. However, it's very stable indoors and since it only has a decibel level of 75, you won't bother your family much while flying.
The Mambo never gets above conversation level, which means it is very quiet and you can still hear yourself over the sound of the props.
If you are looking for an entry point into the hobby of drone flying, you will have nothing to complain about with this lovely and quiet drone.
Weight: The Mambo weighs in at around 63 grams without any accessories attached to it. This also means that you don't need to register the drone with the FAA.
Flight time: Unfortunately with this type of drone you don't get much flight time. The Mambo will give you around 9 minutes of solid flight time. But one thing you need to remember is that this is not always accurate!
Range. The drone can travel up to 328 feet away from the pilot, which is pretty impressive for a mini drone. Most mini drones on the market can only fly around 65 feet away from you while you are flying.
Camera quality: Because it is a mini drone, the camera quality is not very impressive.
The Parrot Mambo has a VGA 0.3-megapixel camera that can only hold 1gb of internal memory.
Price: The Parrot Mambo is the cheapest drone you will find on this list. With a great value of $110, you certainly get your money's worth.
10. Autel Evo*
The Autel Evo is actually one of the only competitors for the Mavic series of drones. It certainly isn't as well known, but it has definitely made a mark in the droning community.
It has an excellent collision sensing system, making it great for beginner pilots. Many enthusiasts like working with Evo because it includes an OLED screen for FPV in the standard remote, which a nice little touch.
The drone is very quiet with a decibel level of only 68.
Camera: The Evo has a 4K camera and produces excellent video thanks to its 1/2.3 sensor.
Flight Time: It has a 30 minute flight time which is usually only obtainable by DJI drones.
Price: The price of this specific drone is $999 which is not cheap, but still a great price for a drone of this quality.