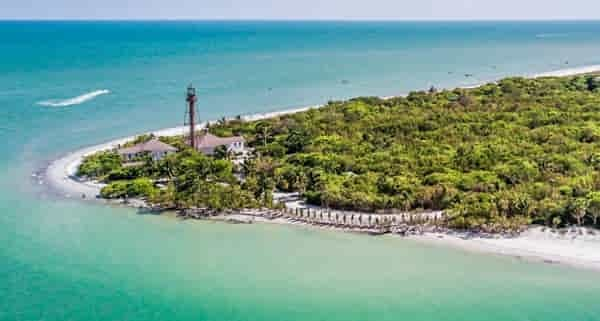 If you're planning a trip to Florida anytime soon and are wanting to enjoy some fishing with your drone, you're probably concerned around the legalities of this. I've done some research and here's exactly what you need to know.
According to the International Game Fish Association, you may use your drone to fish in Florida as long as the line is attached to the device by either a snap or release device. This means it should release from the drone once the fish bites. However, you first need to register your drone with the FAA before you get started.
Keep reading to learn how to register your drone with the FAA, as well as understand the Florida fishing rules and regulations so that you avoid getting into any legal trouble!
How To Register Your Drone In Florida
If you are a hobbyist wanting to use your drone for fishing, firstly you will need to register your drone with the FAA (Federal Aviation Administration).
If your drone weighs more than 0.55 lbs (250g) and less than 55 lbs (25kg) then you need to register your drone with the FAA by clicking here. It only costs $5, and once you register online you get your drone license almost instantly.
If you fail to do this, then you could find yourself facing a hefty fine of up to $250,000! Sounds like a pretty expensive fishing trip, don't you think?
IMPORTANT NOTE: If your drone weighs less than 0.55 lbs (250g) then you can skip this step. You don't need to register it with the FAA. However, you still need to follow Florida's state and local drone laws pertaining to fishing, so keep reading.
As a drone hobbyist you are required to follow the rules stated by the FAA, which are known as the Special Rules for Model Aircraft.
These rules state that you may only fly your drone for recreation and you may not fly your drone any higher than 400 feet if you are flying it in an uncontrolled airspace. Lastly, your drone must be in your line of sight at all times.
How To Fish With Your Drone Without Breaking The Law
Now that you've registered your drone, it's time to take a look at how you can start fishing with it as soon as possible while also avoiding any legal trouble.
It's really important to understand that a drone is NOT used to reel in the fish itself. Drones are only permitted to deliver the bait or the line to the fish, and NOT to drag or reel the fish to the shore.
Some people also use the drone to track the fight of the fish and the hook on camera, so they can go back and view it at a later stage.
The Quick Release Method
Firstly, you will need to get yourself some downriggers, release or snap clamps in order to attach them to your drone. You are able to get drones that are designed specifically for fishing, however, in most cases you will need to use your own attachments.
The simplest method of doing this would be using the quick release method, whereby you attach a hook to the bottom of your drone with the opening facing in an upwards direction.
This ensures that the line does not become detached from your drone when a fish grabs the bait but instead transports your line further out than a normal cast would and will allow you to drop it wherever you wish.
You can attach the line to the hook by tying it with what is known as a "loose overhand knot". Be sure that the hook you have used does not interfere with any of the sensors and that the line does not intercept the blades of your drone. This could be a right mess!
Next, you need to slowly and carefully release your line from the reel as you send your drone out to wherever you would like to begin your fishing. The slower the better, as you do not want to created a tangled mess of fishing line on your way!
Once you have reached your desired location, you can go ahead and drop your line. You can do this by backing the drone up slowly until the line slips off. Lastly, bring your drone back to shore and close the line on the reel.
Now that your line is successfully out on the water, it's time for the fun part!
Using a Release Device Method
If you do decide to use a release device the way in which you do this is still pretty much the same as the above-mentioned method.
Simply attach your line to the drone and then release the line off the reel. Then you can fly your drone out to your desired fishing location.
Next, you need to allow the drone to descend to just above the surface of the water or until the hook is submerged. Don't forget to stop releasing your line once it is in the correct location, and make sure you reel back in any extra slack that could get in the way.
The line should only detach from the drone when a fish takes a bite, thereafter you can bring your drone back to the shore and continue fishing.
It is always a good idea to bare in mind the people and objects around you, as well as where you are fishing. Certain fishing locations have their own set of rules that you will need to adhere to, and you also need to be extremely careful that you are not fishing on private property or in a Florida State Park.
Lastly, you need to ensure that you have the correct documents for the use of your drone as well as the correct licenses and tags for fishing.
Florida Drone Fishing Rules & Regulations
It is important to note that there are only four areas within Florida that have their own set of rules regarding drones and where they are permitted. If you are planning on using your drone for fishing in any of these areas, read below:
Bonita Springs
If you are planning on fishing in Bonita Springs, take note that you cannot fly your drone in the Community Park except when the park has nobody occupying it.
Drones may not be flown within 25 feet of buildings, people or power lines due to safety reasons.
Miami
Drones may not be flown within half a mile of sporting events or any other large event similar in nature.
The city of Miami also states that drones may not carry any type of detachable cargo or weapon without first obtaining a permit to do so—this is where I advise that you be extra careful when it comes to fishing, so always double check before you fly your drone over any body of water.
Defuniak Springs
Drones here are not allowed to fly over anyone's property, whether it be private or public, without first obtaining consent.
Again, it is advised to always double-check that you do not require a permit before flying your drone over a body of water.
Orlando Florida
Here, the city has placed additional restrictions for how close a drone may fly to a person. In fact, drones are restricted from flying within 500 feet of a gathering of more than 1000 people. Additionally, cities, parks and schools fall under these restrictions, so be careful.
The good news is that you can obtain a permit to access any of the above-mentioned areas so long as you pay the fee of $20-$150.
If you fly your drone without first obtaining a permit, you could face a hefty fine for the violations. I'm pretty sure you would rather just pay the permit fee in the first place and avoid the trouble!
Always check your local ordinances for possible drone restrictions before flying your drone and to avoid any unnecessary trouble.

Hobby Henry.
If you would like to learn more about the general state drone laws for Florida, then check out my article here for all you need to know.